Olivia Wilde has revealed that she was once rejected for the part of Naomi Lapaglia, Jordan Belfort's second wife in the Oscar-winning film, The Wolf Of Wall Street. During an interview on The Howard Stern Show to promote her current role on HBO show Vinyl, Wilde told the notoriously forensic host about the time she found out the true, pretty controversial, reason behind her rejection for the role.
"I had heard for a part that I was 'too sophisticated'... I'd found out later that they'd actually said 'old.' I did not [audition for Vinyl], because I had auditioned unsuccessfully for Wolf of Wall Street," explained Wilde. "That's the one I was too old for."
As most film fans will know, Naomi ended up being played by Aussie actress Margot Robbie, who was relatively unknown at the time but has since gone on to star opposite the likes of Will Smith in thriller-comedy Focus and Tina Fey in Whiskey Tango Foxtrot. She'll soon be seen in Warner Bros' Suicide Squad, as iconic DC villain Harley Quinn.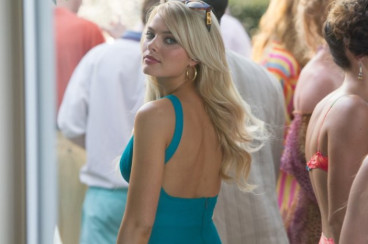 Interestingly enough however, Wilde's age at the time of filming the Martin Scorsese picture would have been much more aligned with Naomi's real life counterpart, Nadine Caridi, who married banker Belfort in 1991, at 29 years-old. Scorsese's film shot between August and September 2012, would have put Wilde at 28 and Robbie 22, at the time of filming. So technically and if authenticity was a factor, Wilde's casting would have seemed like a shoe-in.
Undoubtedly, Wilde would have been hypothetically fantastic as Naomi opposite DiCaprio, but considering Robbie's success since that film, it is difficult not to believe the casting directors made the right decision as she probably wouldn't have gotten the big breaks she's had off the back of it. Wilde at the time was already a well-known name having starred in The OC, House and Tron: Legacy. It wasn't all bad either in reality, because after her audition, Scorsese actually offered her a part in his series Vinyl. But that doesn't mean that there aren't huge minuses surrounding the decision and what it says about Hollywood's big players, as many 'older' actresses already discuss frequently how it is significantly harder to land a role when you're past a certain age.
Still, Wilde is happy with the choices that the people behind The Wolf Of Wall Street made, and is thankful for the experience because either way it helped her land her "dream job." Following the interview, she also took to her personal Twitter account to explain how in the discussion, she "went on to say that Robbie crushed that role like a sexy ninja and [she] LOVED her in it."
Proving Wilde's experience was not a one-off, The Dark Knight actress Maggie Gyllenhaal also opened up in the summer of last year, recollecting an instance when she was turned down for a role at the age of 37, to play a love interest of a 55-year-old actor. In an interview with The Wrap, Gyllenhaal narrated her shock at finding herself "over the hill" in her mid-30s.
"There are things that are really disappointing about being an actress in Hollywood that surprise me all the time," she said. "It was astonishing to me. It made me feel bad, and then it made feel angry, and then it made me laugh."
For more entertainment news follow A-List on Twitter @Alistinsider