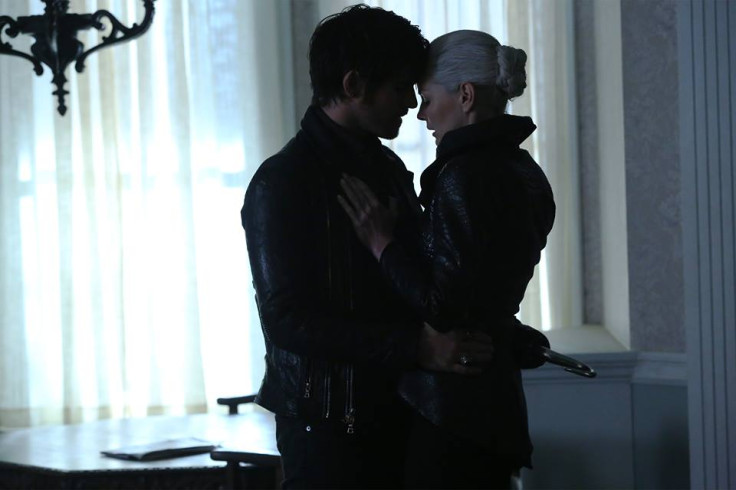 Once Upon a Time season 5 will take a break this week, and return with an all new episode on 29 November at 8pm EST on ABC Network. Episode 10 is titled Broken Heart, where Hook comes to terms with his new identity as the Dark One.
In the two hour special episode that aired on 15 November, Emma revealed that she had turned Hook into the Dark One to save his life in Camelot, and "this gut-wrenching choice was the reason why she took away everyone's memories".
Emma works through her fears and is successful in mending the Excalibur in the first part of the special episode, but it came at a terrible price. Hook, who was hit by the Excalibur, falls to the floor and was bleeding to death. To save his life, Emma conjures the dark magic from the sword and instills it in Hook. Following which he was reborn as the Dark One. Now, the Excalibur has two names on it, Emma Swan and Killian Jones aka Hook.
Hook and Emma's relationship has now entered a complicated territory, and it will take a lot for Emma to earn his trust back. Also after this betrayal, Hook, is hell-bent on hurting Emma. Speaking about their relationship, creator Edward Kitsis told The Hollywood reporter, "They will be tested like they never have been tested before. We'll have to see if true love can really conquer all."
Meanwhile, in the latest new promo, Regina questions Emma, "You turned Hook into the Dark One?" And she replies, "It was the only way to save him." The voice-over then says, "There is nothing worse than a vengeful pirate with dark magic."
Following which, Killian is seen at Gold aka Rumple's shop and slides a sword for a dual and says, "Shall we finish what we started?" Rumple replies, "Indeed." We see the two in a violent fight at the docks.
The video ends with Hook telling Emma, "I want to hurt you, like you hurt me." Hook is looking for revenge from Emma for she turned him into something he hated the most. Hook spent his entire pirate life hunting for Rumple (who was then the Dark One), but now tables have turned.