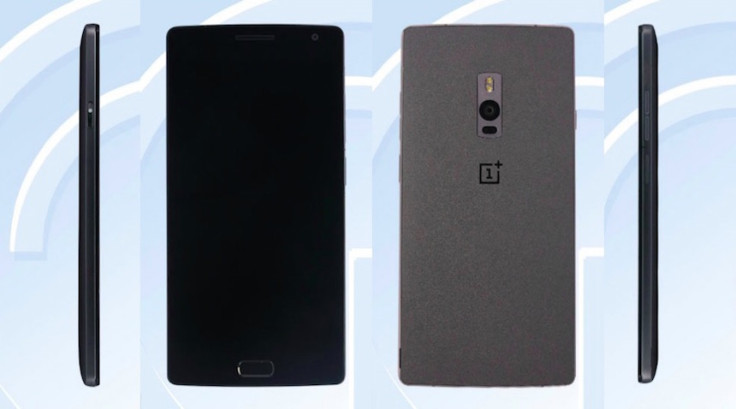 A week before the OnePlus 2 was due to be launched we have been given our first official look at the highly-anticipated smartphone thanks to an accidental leak by Chinese regulators.
The images above come from Tenaa, the Chinese telecoms regulator which certifies smartphones in the country. While the images may not represent the final design which will be revealed on 28 July, it does give us a strong indication of what the phone will look like.
When asked by IBTimes UK if this was the OnePlus 2, the company simply said that all would be revealed at the keynote next week.
From the images we can see that the fingerprint sensor which the company has already confirmed will be included, will be built into the home button sitting below the screen. We can also see that the camera housing is positioned slightly lower on the rear case of the phone than in last year's OnePlus One. The camera lens and flash are joined by a mysterious third sensor which some have concluded is a laser-focus system first seen in LG's G3 smartphone.
Otherwise there is little to be gleaned from the leaked images, other than the fact that this model retains the unique felt finish on the rear cover which was introduced on the original phone. It also doesn't appear to have an all-metal chassis as some leaks suggested.
OnePlus, the 18-month-old Chinese start-up, has already confirmed that the smartphone will be powered by an updated version of the much-maligned Snapdragon 810 chip from Qualcomm, paired with 4GB of RAM and will support the new USB Type-C connector.
OnePlus is hosting an event in China on 28 July and it will be allowing fans to watch the event in virtual reality using its own OnePlus Cardboard VR headset which it shipped to people around the world.