Key Features:
5.5in screen (1920 x 1080 pixels)
13 megapixel camera
CyanogenMod software
Snapdragon 801 chip with 3GB RAM
Price as Reviewed: £273 (64GB model, incl shipping)
OnePlus One Review
The OnePlus One is a odd smartphone.
On one hand it is a large, sleek Android powerhouse with high-end specs but a budget price.
On the other it is a phone very few have heard of using a version of Android even fewer have heard of requiring a lot of customisation to get it working the way you want it.
Dubbed the "flagship killer" this smartphone's real selling point is its price. At £273 (including shipping), the 64GB version I bought is a full £430 cheaper that an equivalent iPhone 5s. The 16GB model is just £230.
OnePlus, the eight-month old Chinese startup, has kept prices down by spending nothing on advertising, shopping for components wisely and relying on word-of-mouth to spread the news.
But is it worth all the hype?
---
OnePlus One: Design
---
The OnePlus One is an unashamedly big smartphone. It' 5.5in screen means that it is always going to be difficult to handle one handed.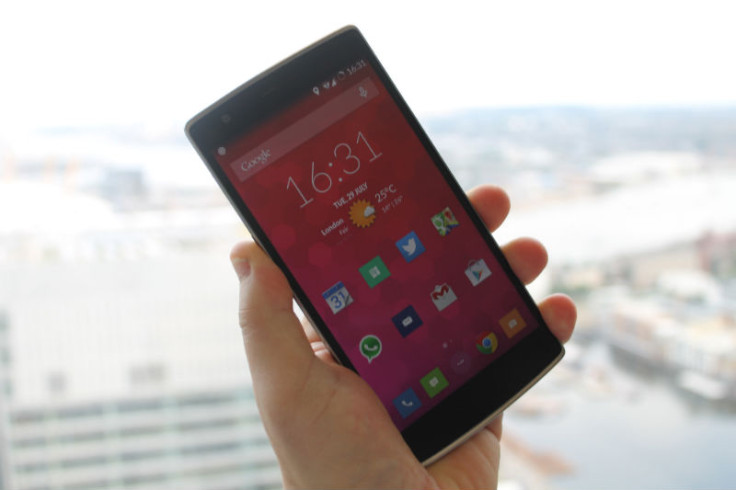 The LG G3 which launched last month also features a 5.5in screen, but LG managed to keep the footprint of that phone down to 146 x 75mm while the OnePlus One is 153 x 76mm and the difference is telling.
While the G3 could just about get away with calling itself a large smartphone, this phone is most definitely in the phablet category with the likes of the Galaxy Note 3.
The phone's design is however much better than Samsung's efforts. The large glass panel on the front is surrounded by an attractive chrome band while the rear is covered in a unique felt finish, which on my model was grey. There is a white finish available on the 16GB model.
One slight issue I had with the design was the flush nature of the volume rocker and power button. I found them difficult to locate when I wasn't looking directly at the phone, which was annoying.
---
OnePlus One: Screen
---
The OnePlus One screen as I said is 5.5in and has a resolution of 1920 x 1080 pixels, giving it a pixel density of 401 pixels per inch (ppi). This may be no where near the frankly ludicrous pixel density of 534ppi on the LG G3, but it is still a lot higher than the 326ppi on the iPhone 5s.

The screen is large, bright and sharp. It offers great viewing angles and contrast is good, making reading books and websites a real pleasure.
A number of customers have raised concerns about a yellowish tinge appearing at the bottom of the screen, but my phone didn't have that issue. The screen does have a warm hue but this can be tweaked in the settings to make it appear cooler if that's what you prefer.
---
OnePlus One: Hardware and battery life
---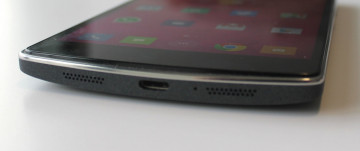 The OnePlus One has hardware to match any premium smartphone on the market today. A top-of-the-line Qualcomm SnapDragon 801 chip is paired with 3GB of RAM to give great performance. It also has top notch Wi-Fi support, Bluetooth 4.0 and NFC.
One issue it does have however is limited support of 4G networks in the UK, only working on bands which are used by EE, which is a pity and is an issue which the company told me won't be fixed until future models are launched.
The OnePlus One comes in just two versions 16GB or 64GB but with no microSD card slot meaning you will have to choose your model wisely.
The phone comes with a large 3,100mAh battery. During my tests I found that I comfortably got a day's typical use from the phone - which is standard for a premium smartphone - but there were a couple of occasions when the battery was almost drained by 4pm in the afternoon.
Another issue is the lack of a battery saving mode, which most big manufacturers include these days, meaning if you are struggling to keep your phone alive, there's no automatic option to switch off certain features - though you can do this manually of course
---
OnePlus One: CyanogenMod
---
Aside from the price, the use of the open source CyanogenMod version of Android is what sets the OnePlus One apart from the competition.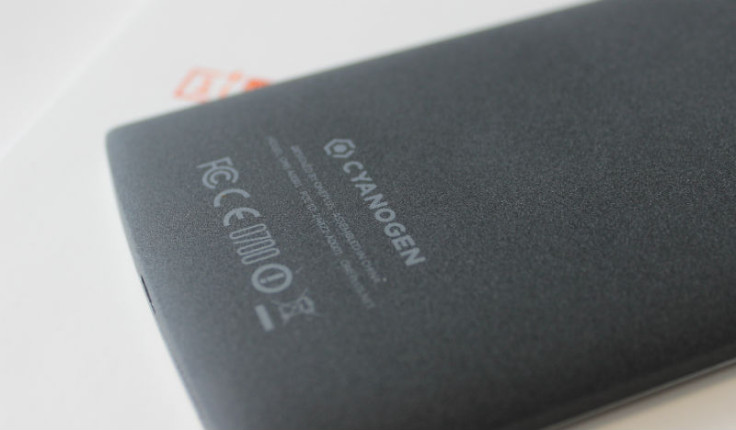 On the surface there is little difference between the CyanogenMod interface and any other skinned version of Android you would see from Sony or HTC.
The real difference comes when you dig deeper into the settings and menus, with CyanogenMod allowing you to tweak and tinker with virtually every setting on the phone.
This can all be very confusing at the beginning, particularly if you are used to using an iPhone, but persist and it allows you to customise your phone exactly as you want.
Unlike some versions of Android (Amazon's or Xiaomi's for example) with the OnePlus One all the typical Google apps and services are still available and the Google Play store still gives you access to hundreds of thousands of apps.
This was my first real encounter with CyanogenMod and I found it to be both intriguing and frustrating. I found myself constantly rejigging my settings, and at times I just wanted the system to do it for me.
For those who want complete control however, the OnePlus One is perfect.
---
OnePlus One: Camera
---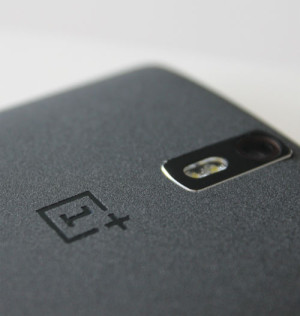 The 13 megapixel camera on the OnePlus One may sound a step down from the rest of the premium smartphone market, but I found this phone took excellent pictures in almost all lighting conditions.
The level of detail captured is excellent with macro and HDR modes also offering decent quality. The OnePlus One won't match the Xperia Z2 or Galaxy S5 in terms of camera quality but it's not too far behind it.
The front-facing 5 megapixel camera is better-than-average, making it great for video calling and selfies. Video is also good, and is even available in 4K resolutions.
Finally the OnePlus camera app allows you to swipe up and down to select the modes (rather than having to go through menu options) and you can set the power button to be a shutter button too - though that can cause problems when you are trying to lock the phone after using the camera.
---
OnePlus One: Value and Verdict
---
The 16GB version of the OnePlus One costs £230 including shipping, while the 64GB version is about £45 more. This is remarkable value for a smartphone with the spec sheet the OnePlus One boasts.
Purely in terms of cost this phone is going up against the likes of the Nexus 5 and Moto X, while in terms of specs it is going up against the Galaxy S5, HTC One (M8) and all the rest of the 2014 flagships.
Therefore it is a little difficult to evaluate.
Another issue is the fact you can't easily go out and buy one. You will need an invite from OnePlus or another customer, before you can purchase a phone from OnePlus' website.
This is a phone which will appeal to a lot of people, especially those looking for the big Android experience but who don't want to pay the big Android price.
Conversely, It won't appeal to those who just want their smartphones to work, who don't want to spend hours tinkering with settings and menus.
In short, it won't appeal to the vast majority of consumers.
For me, the OnePlus One is a great smartphone which - if nothing else - shows just how much the rest of the industry is making from its premium devices.
Scores:
Screen 9/10 – Big, bright and crisp
Camera 8/10 – A really good camera which offers good detail
Software 8/10 – Good and bad. Complete freedom is not for everyone
Design 9/10 – Too big for me, but this is an otherwise attractive device
Build quality 9/10 - No problems here
Overall 8/10 - Amazing specs for the price but it's just too big and the software is a bit finicky
The Good:
Unbeatable price
Big, bright screen
CyanogenMod offers huge customisation options
Powerful processor
The Bad
Erratic battery life
CyanogenMod offer too much choice
This is a BIG phone