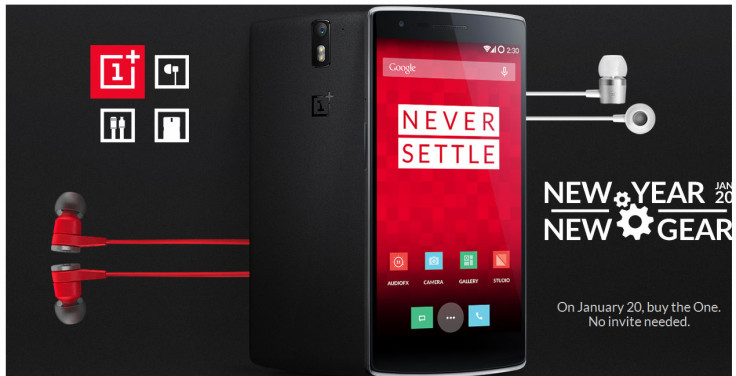 If you have been waiting to lay your hands on the popular OnePlus One pure mid-range smartphone, you have yet another opportunity to procure the device without having to wait for a customised invite.
OnePlus One will be available for online purchase without an invite on 20 January. Both the Silk White 16GB (priced at $299, £198) and the Sandstone Black 64GB (priced at $349, £231) smartphone variants will be available.
Click here to log in to purchase OnePlus One, on 20 January.
If you reside in Europe, then OnePlus' latest online sale will begin from 19.00 and go on till 21.00 hours GMT.
In North America, the online sale will be held between 7 pm and 9 pm EST, whereas in Asia, people can buy the One smartphone between 19.00 and 21.00 hours HKT.
The One has proved to be a success for Chinese startup OnePlus with almost one million handsets sold during 2014.
This success could have prompted OnePlus to officially announce the successor to the One, called the OnePlus Two that is set for launch during Q2/Q3 2015.
Although technical specifications of the next-gen smartphone are yet to surface, speculations are rife that the device will provide dual-SIM card slots along with MicroSD card support, both of which are not present within the current-gen OnePlus One.
A Chinese online portal has listed the OnePlus Two as "open for pre-ordering", and states that the smartphone will be launched officially in February 2015. The OnePlus Two is being offered for £346 ($538.19) on the Chinese portal.
Other rumoured tech-specs of OnePlus Two include:
5.5in display, having resolutions of 1920x1080 pixels
Colour operating system; based on Android 4.4.4 KitKat
2.7GHz quad-core Qualcomm Snapdragon 805 processor
3GB RAM
16MP rear camera, and 5MP front camera
Single SIM-card support
4G –LTE, 3G, Bluetooth 4.0, Wi-Fi and microUSB connectivity
Fixed 3300 mAh battery