OnePlus One users are in for some great news, as the Cyanogen team has just released the Android 5.1.1 Lollipop update with build number YOG4PAS1N0 via Cyanogen OS 12.1 ROM. The new Cyanogen OS 12.1 update brings critical security fixes for your smartphone to address latest vulnerabilities in Android.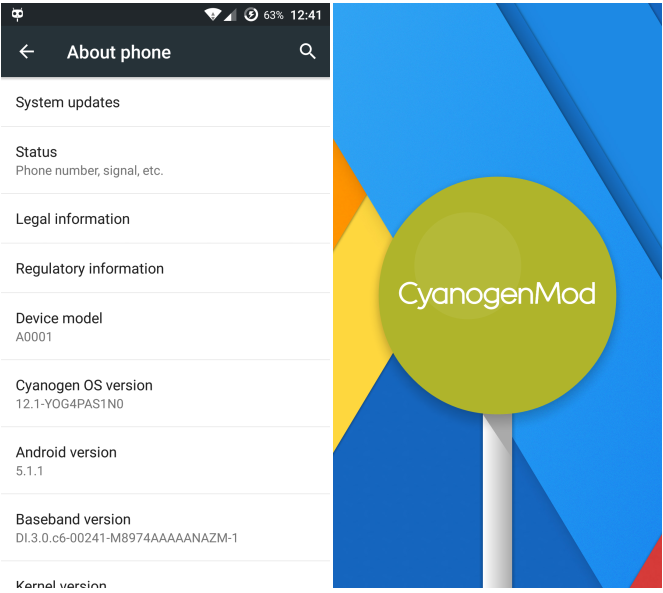 According to Android Police, the update reportedly activates the home button in Chrome with the home page being preset to Bing. This could be due to the fact that Microsoft and Cyanogen seem to have a good rapport among them in recent times.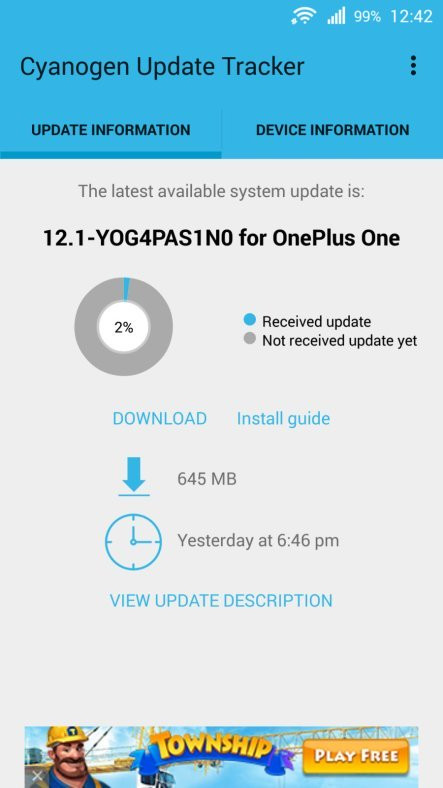 The full ROM update weighing a massive 645MB is now available for manual download as well as via over-the-air (OTA) in a phased manner. Those who cannot wait for the official OTA release on their device can go ahead and install the same manually, using the step-by-step guide posted below.
Note: Those who are already running the recent Android 5.0 Cyanogen release can instead opt for the smaller OTA download, which weighs a mere 304MB in size. IBTimes UK reminds readers that it will not be held liable for any damage to device during or after the OTA firmware installation. Users are advised to proceed at their own risk.
Folks at The Android Soul have shared three different methods to install the update: full ROM using stock/TWRP recovery, Fastboot and TWRP recovery flashable update file with root.
File Downloads
Cyanogen OS 12.1 build YOG4PAS1N0 (full ROM) (645MB)
Cyanogen OS 12.1 incremental OTA zip (304MB)
Prerequisites
The instructions and firmware downloads provided in this tutorial are meant for OnePlus One model only. Do not attempt installing this firmware on any other device, as it may inadvertently brick or permanently damage the device.
Ensure the OnePlus One is fully charged
Verify that the phone is running on stock recovery and stock ROM
Back up important data and settings on the phone to prevent unexpected data loss during the ROM installation
Steps to update Cyanogen OS 12.1 build YOG4PAS1N0 on OnePlus One using stock recovery
Method 1 via Stock Recovery
Step 1: Download the official CM12.1S ROM for OnePlus One "cm-12.1- YOG4PAS1N0-bacon-signed.zip"
Step 2: Copy the downloaded file to the root folder of your phone's internal storage
Step 3: Flashing the OTA via Stock Cyanogen recovery
1. Power off your device
2. Reboot into stock recovery – Press and hold the Power and Volume Down rocker and release them when the OnePlus logo appears on screen
3. Choose Apply Update
4. Select Choose from internal storage
5. Select '0/' which is the internal storage
6. Tap on Install and choose the file "cm-12.1-YOG4PAS1N0-bacon-signed.zip", which you downloaded earlier and let the installation begin. Wait until the ROM is flashed and then you will see the Android Bot.
7. After the installation is over, return to main page and perform 'wipe cache partition'.
8. Then hit Reboot system now
Following the reboot, you will see the new Cyanogen logo and it confirms that your OnePlus One is now running on the new Cyanogen OS 12 Lollipop OS.
Method 2 via Fastboot
Downloads
YOG4PAS1N0 Android 5.1 update (CM12.1) (Fastboot firmware)
Step 1: Install ADB and Fastboot driver on your OnePlus One.
Step 2: Download and install the appropriate OnePlus One USB driver for Windows 8.1 64 bit PC and all other PC.
Step 3: Now, download the update file (cm-12.1-YOG4PAS1N0-bacon-signed-fastboot.zip) from the link provided.
Step 4: Extract the Android 5.1 update fastboot firmware file via free software such as 7-zip to a separate folder.
Step 5: Rename the folder where you have extracted all the firmware files to "op1update".
Step 6: Launch command window in the folder op1update as follows:
Open that folder and then left click on empty space in the folder.
Then hold Shiftkey and right-click on empty space to get a pop-up window.
Now choose Open command window here option from the context menu. A command window should open up, showing the folder where you have all the 5.1 update files from the firmware.
Step 7: Disconnect your OnePlus One from PC if it's still connected and reboot your OnePlus One to Bootloader/Fastboot mode:
Switch off your OnePlus One and wait for 4-5 seconds until the display gets shut down.
Press and hold Power and Volume Up buttons together for 4-5 seconds and let the device enter Fastboot mode.
Step 8: Connect your OnePlus One to computer again.
Step 9: Run the following command in the command window to check whether fastboot is working properly or not (you can also copy paste the command, and then hit enter key to run it):
fastboot devices
If you see the text "fastboot" with serial no. displayed after it, then it means fastboot is working alright. Otherwise, just re-install the driver in step 1 and 2 above.
Step 10: Verify the bootloader status on your device's screen, whether it says locked or unlocked. If it's unlocked, you are all done. However, if it says locked, you need to unlock the OnePlus One bootloader first.
Note: Unlocking bootloader will delete everything on your device.
To unlock bootloader, run the following command:
fastboot oem unlock
Choose Yes to confirm the action and let the device reboot. Once again unplug the device from the computer. After the device restarts, boot it into fastboot mode again. Leave the command window open, but if it's closed accidentally, just open it again in op1 update folder as mentioned earlier.
Step 11: Run the following commands one by one to install the Android 5.1.1 update (CM12.1) on your OnePlus One. Wait until earlier command is finished, before entering next command:
fastboot flash modem NON-HLOS.bin
fastboot flash recovery recovery.img
fastboot flash sbl1 sbl1.mbn
fastboot flash dbi sdi.mbn
fastboot flash rpm rpm.mbn
fastboot flash aboot emmc_appsboot.mbn
fastboot flash tz tz.mbn
fastboot flash LOGO logo.bin
fastboot flash oppostanvbk static_nvbk.bin
fastboot flash boot boot.img
fastboot flash cache cache.img
fastboot flash system system.img
Step 12: Finally, enter the command to flash userdata file, which depends on how much storage your OnePlus One has.
Note: You could skip this command as this will delete all data on your OnePlus One.
For instance, if your OnePlus One has 16GB storage, enter this command:
fastboot flash userdata userdata.img
For OnePlus One with 64 GB storage, enter the command:
fastboot flash userdata userdata_64G.img
Step 13: That's it. Reboot your OnePlus One with following command for the changes to take effect:
fastboot reboot
That's it. Your OnePlus One will now be running Android 5.1.1 update via Cyanogen OS 12.1 ROM.
METHOD 3: TWRP flashable YOG4PAS1N0 ROM with Root
Downloads
To install the pre-rooted firmware, just make sure you have the TWRP recovery installed on your OnePlus One.
If not, try using the toolkit . Then download the file and transfer it to your phone.
Reboot the phone into recovery mode (see step 3 of method 1 above) and flash it using the Install menu in TWRP recovery. When done, tap on 'Reboot System' to restart the device.
Update: Here are the download links for the new versions of full size ROM, incremental update and the fastboot image:
Cyanogen OS 12.1 build YOG4PAS1N0 (full ROM) (645MB)
Cyanogen OS 12.1 incremental OTA zip (304MB)
YOG4PAS1N0 Android 5.1 update (CM12.1) (Fastboot firmware)
[Source: The Android Soul]