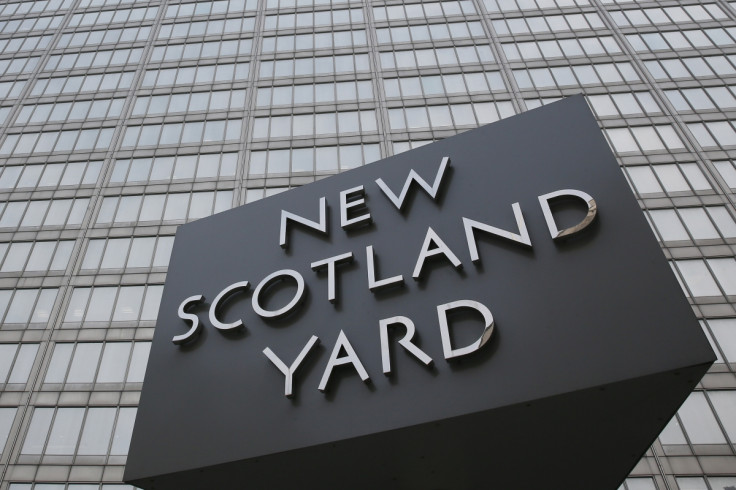 Operation Elveden, the Met Police investigation into corrupt payments by journalists to police and public officials, has officially closed after five years. The inquiry was shut down after police confirmed a prison officer who was arrested on 15 September 2015 on suspicion of misconduct in a public office will face no further action.
In total, the investigation brought 34 convictions – including nine police officers and 21 public officials – and two cautions at a cost of £14.7m ($20.5m). It was launched in June 2011 in the wake of the phone hacking scandal at the News of the World. Some journalists have criticised the operation given that only one reporter – Sun crime reporter Anthony France – was convicted by a jury out of 29 arrests. A second journalist, former NotW reporter Dan Evans, admitted a charge relating to Elveden.
Many of the police officers and public officials pleaded guilty to the charges and never went to trial. Among these include Scott Chapman, an ex-prison officer who was jailed for three-and-half years for selling details about Jon Venables, one of James Bulger's killers; and Paul Flattley, a former Met police officer who sold information to the Sun about the Kate Middleton and former footballer Paul Gascoigne among others.
Former NoTW editors Andy Coulson and Rebekah Brooks are among those to have had their cases against them dropped.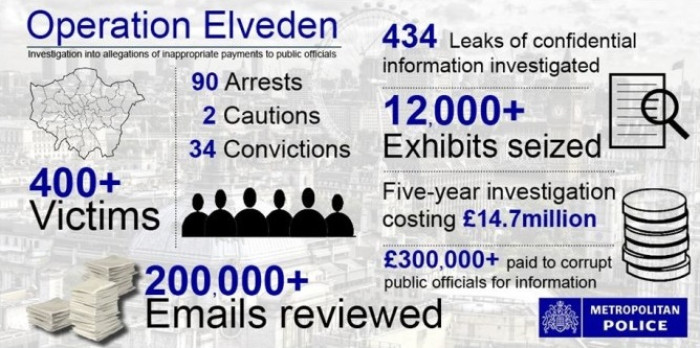 Following the completion of Elveden, Met Police Assistant Commissioner Patricia Gallan said: "Elveden has been one of the most difficult and complex investigations the Met has dealt with. Having received from News International what appeared to be evidence that crimes had been committed by police officers, an investigation was inevitable.
"It was right that we followed the evidence where it took us without fear or favour. As the police, our responsibility is to investigate crime and present evidence to the CPS for them to consider appropriate charges, and this is what we did.
"In order to secure evidence and build cases detectives reviewed more then 200,000 emails, 28,000 documents and in excess of 12,000 exhibits. They also established that confidential information was leaked more than 400 times, and more than 400 victims were informed that personal data relating to them had been sold.
"Some of these people were already victims of crime. The mother of a British soldier who was killed in Iraq told officers that she was 'totally sick to her stomach and devastated' that someone could make money out of the death of her daughter. Another, the mother of a teenage girl who died in tragic circumstances, was devastated to learn that a police officer had sold information about the death of her child.
"The decision to arrest journalists for conspiracy to commit misconduct in a public office was not one taken lightly. Elveden was certainly not an attack on journalists or a free media. It was necessary and right that we investigated all suspected crimes from the evidence News International provided to us, which directly led to the arrest of suspects. We presented the evidence we found to prosecutors."