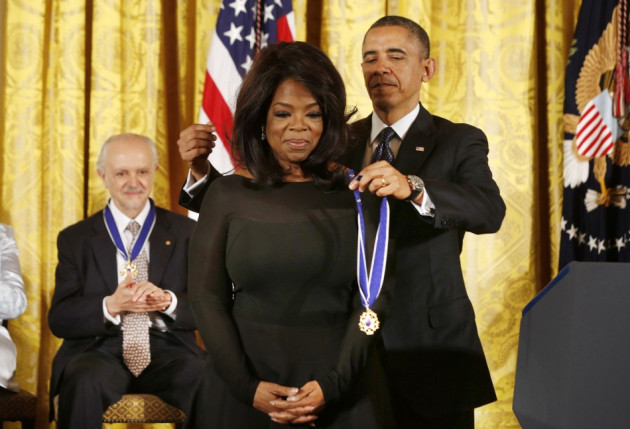 Oprah Winfrey has been awarded America's highest civilian honour, the Presidential Medal of Freedom.
Accompanied by Steadman Graham, her partner of 21 years, the 59-year-old attended a formal dinner in honour of this year's Medal of Freedom recipients, held at the Smithsonian National Museum of American History in Washington, D.C.
President Barack Obama presented the Medal of Freedom awards to Oprah and former President Bill Clinton, TIME reports.
The business mogul and global chat show queen later shared a picture on instagram of her posing with Graham, with the caption: "Medal of Freedom dinner last night with my HoneyGraham."
Speaking from the White House Obama said: "These are the men and women who in their extraordinary lives remind us of the beauty of the human spirit. These individuals were recognised for their meritorious contributions to the security or national interests of the United States, to world peace, or to cultural or other significant public or private endeavors."
An American educator, author, public speaker and businessman in his own right, 62-year-old Graham has been a constant companion and supporter of the TV star throughout her career, though he is known to shy away from the media glare.
Winfrey was in the UK last week (15 November) promoting the Lee Daniels directed film The Butler, in which she stars alongside Oscar-winning actor Forest Whitaker.