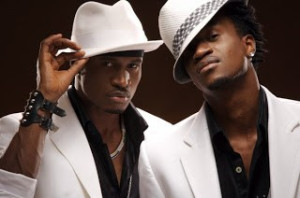 Nigerian R&B duo P Square have paid homage to Michael Jackson in the music video for their latest single, Personally.
The group, twin brothers Peter and Paul Okoye, showed off a range of impressive dance moves for their track in the online video release.
One clip sees Peter and his backup dancers do Jackson's famous anti-gravity lean while another show the brothers performing the iconic Thriller dance routine.
The tribute to the late King of Pop has gone down well with fans and the online pandemonium suggests that P Square may have a smash hit on their hands.
One fan said: "Can't stop clicking the repeat button."
Another wrote: "Woooow. I love this so much. U guyz are just a bomb. More wisdom.."
The pair are signed to Akon's record label, Convict Muzik. Personally is their first offering since the release of their last album ,The Invasion, in 2011.