The Coronation Street actor at the centre of a racism scandal has apologised for his expletive-filled rant against Indians, describing his actions as a 'moment of madness'. Marc Anwar, 45, was sacked with immediate effect after screenshots of his racist tweet – referring to Indians as "b*****ds" and "p**s-drinking c**ts" – were published by the Sunday Mirror.
Anwar's remarks referred to growing tensions between India and Pakistan over the disputed region of Kashmir, which is claimed by both nations. Earlier in September, 17 Indian soldiers died after a raid attack on their camp.
In a video apology posted to YouTube, Anwar said he hoped that people would forgive his actions and acknowledged that he had let a lot of people down. "This was never my intention and the language was unacceptable. I feel that I have let a lot of people down, my family, my friends and my former colleagues," he said.
He went on to state that he was spurred by his emotions having seen a "children being pulled out of rubble" in Kashmir. "This upset me very deeply and in a moment of madness I ranted out. I vented my anger.
"Again, the language that I used, I sincerely apologise for. But my feelings were very sincere for the people of Kashmir. And I hope that everyone that I have offended can find it in their hearts to forgive me."
In an interview with the BBC's Asian Network he insisted that he was not a bigot or a liar and it was unfortunate that he couldn't take back his tweets. He added: "I am absolutely disgusted with myself and unreservedly, without any hesitation, apologise to anybody and everybody that has been affected."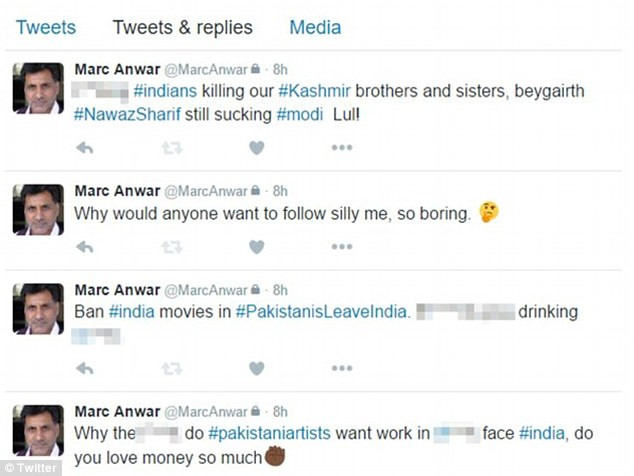 ITV confirmed his axing, saying his behaviour was unacceptable. "We are deeply shocked by the entirely unacceptable, racially offensive comments made on Twitter by Marc Anwar," a spokesperson said in a statement. "We have talked to Marc and, as a consequence of his comments, he will not be returning to Coronation Street with immediate effect."
Anwar joined the show in 2014 as gym boss Sharif Nazir. His character was recently been exposed as a cheat who has been having an affair his wife's long-term friend Sonia Rahman.
Soap bosses are now working frantically to try and find the best way to write his character out of the show. Until his on-screen departure pre-filmed episodes will still air, but his presence in the show will be minimised.