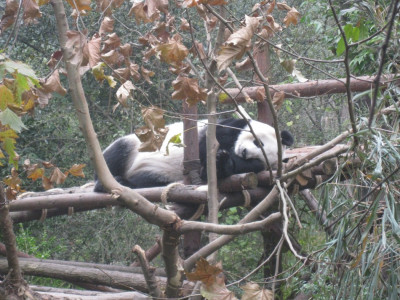 I'm not going to lie. When I was told that my task as a journalist was to visit a "panda base" to report and take pictures of the wonderfully adorable bears, I did slightly lose my mind.
As part of our IBTimes UK special coverage from Chengdu, China, it would only make sense to pay a visit to park of pandas, also known as the Chengdu Research Base of Giant Panda Breeding.
The non-profit organisation engages in wildlife research, captive breeding, conservation education, and educational tourism and, of course, provides the facilities for visitors to hug a panda. Although that does come at a price.
To help support Chengdu's Panda Base, click here.
For more IBTimes UK coverage from Chengdu, China - check out the following links:
Chengdu China Special: Going back to 263 BC in Jin Li [SLIDESHOW]
Chengdu China Special: Ancient Meets Modern in Kuan Zhai Xiang Zi [PICTURES]
Chengdu China Special: Rare Q&A with Maipu Group Vice President
Chengdu China Exclusive: Tax Breaks and Preferential Policies Push Western Investment
Chengdu China Exclusive: UK Government and Businesses behind Investment Curve
Chengdu China Special: Damco Says US Exports Improving
Chengdu China Exclusive: Xi Jinping to Usher New Era for Autos