Paolo Duterte: Philippine president's son denies drug smuggling - but refuses to show 'Triad' tattoo
Embarrassing allegations come as Rodrigo's bloody war on drugs marches on.
One of the sons of Philippine President Rodrigo Duterte has denied involvement in illegal drug smuggling after being linked to a $125m (£95.7m) narcotics shipment.
Paolo Duterte, currently vice mayor of Davao City, told a senate inquiry that claims he helped smuggle drugs from China through a Manila port were "baseless".
But he refused to publicly show or describe a tattoo on his back, which one opposition senator said proved he is a member of a Chinese triad gang.
Paolo Duterte also refused to sign a waiver to allow the search of a bank account said to contain significant cash deposits.
The allegations are embarrassing for President Duterte, who continues to face criticism from human rights groups and Western governments over his bloody war on illegal drugs, which has left thousands dead.
Some of the allegations made against his son came from the President's political opponent, Senator Antonio Trillanes.
President Duterte said over the weekend that Trillanes has been trying to undermine him and his family with baseless allegations, calling the senator a "political Isis" who aims to destroy him but could not offer any shred of evidence.
Paolo Duterte was invited to appear at the Senate hearing alongside the president's son-in-law, lawyer Manases Carpio, after they were mentioned as belonging to an influential group that receives bribes from smugglers operating in Manila and elsewhere.
The inquiry is looking into a $125m shipment of illegal drugs, which slipped into the country through the port of Manila.
"Once and for all, I now have the time to deny any and all baseless allegations thrown against me," Paolo Duterte told the senate hearing on Thursday (7 September).
Carpio, the husband of Sara Duterte, currently the Davao City mayor, said he and his brother-in-law "have been publicly crucified based on rumours and gossips".
At the height of the Senate inquiry, Trillanes accused Paolo Duterte of being a member of the Chinese triad, an organised crime group, citing intelligence he said was provided by a foreign government.
He claimed the young Duterte has a dragon-like tattoo with secret digits on his back that is the mark of a triad gang member.
Paolo Duterte acknowledged he has a tattoo during questioning but refused to show it, citing his right to privacy.
Trillanes also said he has information that the two men have separate bank accounts with huge cash deposits. The pair refused to a sign waivers for Trillanes to investigate the alleged bank accounts.
Ernesto Abella, presidential spokesperson, said the appearance of Duterte and Carpio at the hearing "demonstrates that both gentlemen are willing and ready to face malicious allegations intended to impugn their character and credibility".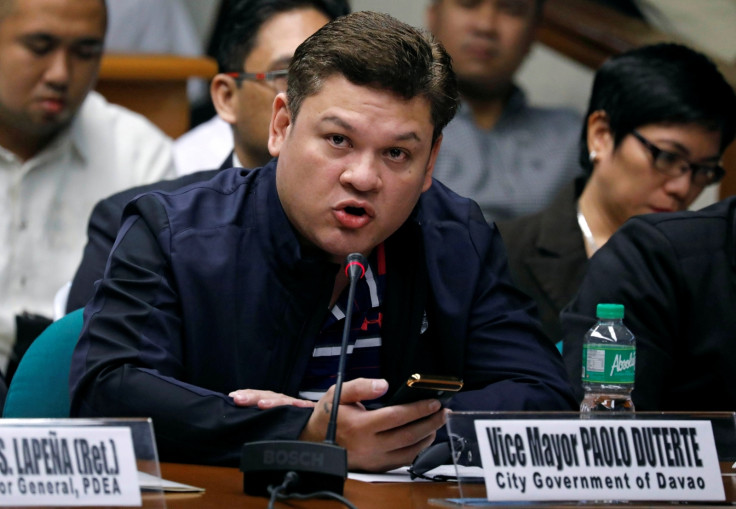 © Copyright IBTimes 2023. All rights reserved.