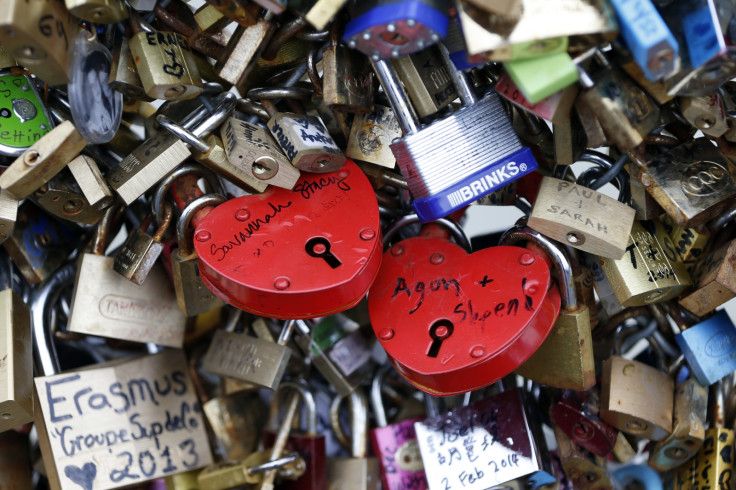 The infamous love locks removed from Paris bridges last year will be sold off to raise money for refugees, authorities have confirmed.
Nearly 65 tonnes of locks were removed from the city as officials considered them eyesores and safety hazards, but they have since sat around and gathered dust.
Now, the capital of love will show love in other ways as it confirmed roughly 20 tonnes of the locks would be sold.
Bruno Julliard, the environment chief at Paris City Hall, told Paris publication The Local: "Members of the public can buy five or ten locks, or even clusters of them, all at an affordable price.
"All of the proceeds will be given to those who work in support and in solidarity of the refugees in Paris."
He said he believed the sales could bring in up to €100,000 (£84,500; $107,600), adding that any that did not find a buyer would be melted down and then sold. The sales are expected to start early next year, although exact details remain unclear.
A majority of the locks were taken from the Pont des Arts, but some were taken from the nearby Pont de l'Archevêché. Both bridges now have anti-lock mechanisms installed on them, but head-over-heels tourists still try to flout the rules.
"Unfortunately, no matter what obvious efforts the city has made to stop love locks on the Pont des Arts, people still attempt to hang locks there," Lisa Anselmo, the co-founder of No Love Locks, said.
"It's a real middle finger from some thoughtless tourists to the people of Paris. There are still over ten bridges on the Seine plagued with locks. Only a ban on love locks will give the city the power it needs to stop this trend."
The decision to sell the locks comes as France recently closed the Calais refugee camp, known as the Jungle.
It has also been announced that two camps will be built in Paris to house the almost 1,000 homeless refugees living on the streets.
Anselmo added the move to sell the locks for the benefit of refugees was a "touching end to the story" of the Pont des Arts love locks.