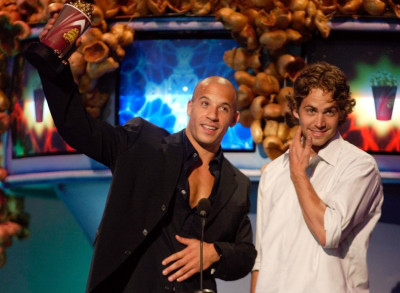 Vin Diesel is still mourning the loss of the his Fast and Furious co-star and friend Paul Walker, and has spoken about the irreparable loss he now faces.
The 46-year-old actor posted a photo of himself and Walker on his official Facebook page.
"There was always moments of child-like laughter...," he wrote, adding, "We had accomplished so much by 2013... P.s. The complexities of Brotherhood, and the painful void... of it's absence."
Walker, 40, was on his way to a charity event when the car, driven by his friend Roger Rodas, lost control and crashed into a tree before bursting into flames. The two were pronounced dead at the scene.
Since Walker's death, Diesel has been using the social media to express his grief.
Diesel had previously revealed the release date for Fast & Furious 7 on Facebook, with a photo of him and Walker from the film, writing, "The last scene we filmed together…There was a unique sense of completion, of pride we shared… in the film we were now completing… the magic captured… and, in just how far we've come… Fast and Furious 7 will be released…April 10th 2015! P.s. He'd want you to know first."
Meanwhile, a report stating that Walker faked his own death has angered his brother Cody Walker. A report on Nodisinfo.com, had gone as far as to say that Walker did not die and the whole incident was a hoax.
Cody took to his Facebook account and wrote: "So Disrespectful.This media is so cruel.Please Let My Brother Rest In Peace....."