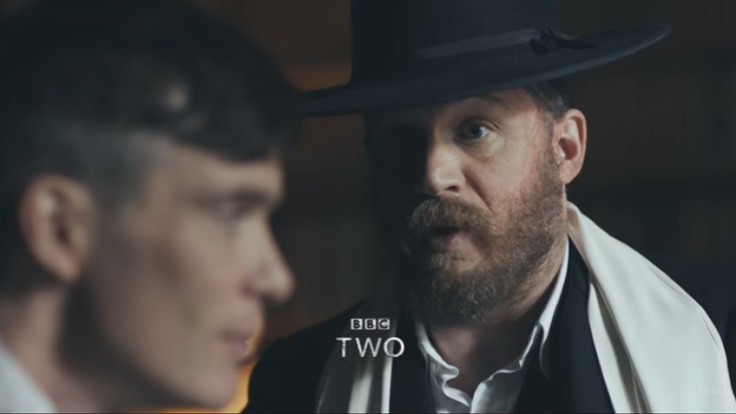 It was previously reported that David Bowie was a big fan of Peaky Blinders, and was keen to feature his music on the hit show, even sending a photo of himself with razor blades in his cap to its lead actor Cillian Murphy. And it looks as though the late pop icon's wish was finally granted.
Tonight's episode (2 June), the fifth of the ever-gripping third series, will open with the haunting melody of Bowie's Lazarus as we behold a stricken Tommy Shelby (Murphy) lick his wounds and attempt to bounce back from his near-fatal injuries. We seldom see our brutal Brummy boy looking so vulnerable, but he's lying on a hospital bed with his head secured in bolts, he can't move and he's got two black eyes shadowing his icy-blue peepers, the source of all his charisma and vivacity.
But viewers will soon be distracted by the emergence of the hunky Tom Hardy, who is gracing our screens yet again as the egregious Alfie Solomans – the petrifying yet very, very pretty gang leader who almost destroyed the Shelby clan in the past. As with his rendition of the Krays in the movie Legend, Hardy slips into the role of a feverishly chilling gangster with a loveable edge like a duck to water. So his highly-anticipated return will no doubt be a blinder in this evening's show.
Alfie shows up to help former enemy Tommy in his physically unable state – aiding him in his dealings with the Russian aristocrats – and what better way to get them thinking than having a delirious mind-boggling bearded gangster on the scene? Whether Tommy can control him is another question. But as the Russians test the Shelby's and their gang, our main man begins to realise he might have underestimated his new business partners – as the exiled aristocrats of the Soviet Revolution have absolutely nothing to lose, and they want everything back that they've lost.
Watch Peaky Blinders at 9pm on BBC2 tonight.