The Philippines National Police (PNP) confirmed on Tuesday (21 June) that the decapitated head of a "Caucasian looking male" found in Jolo belongs to Robert Hall, the Canadian national who was executed by Abu Sayyaf a week ago. Hall was the second Canadian national in the militant group's captivity who was killed for ransom.
The confirmation came following DNA analysis of the severed head recovered by Sulu Police Provincial Office on 14 June.
The PNP Crime Laboratory said the DNA samples of the recovered head matched Hall's DNA profile. The forensics laboratory of Canada had provided the crime laboratory with Hall's DNA profile, ABS-CBN News reported. Hall's severed head was found in a plastic bag near Mt Carmel Cathedral, Sanchez St, Brgy Walled, Jolo, Sulu. The head was found after reports of Hall's execution that led police to suspect it belonged to the Canadian hostage.
The PNP had said that the decapitated head "was turned-over to Trauma Station Hospital, Kampo Heneral Teodolo Bautista (KHTB) for proper disposition". Before Hall, Abu Sayyaf militants executed another Canadian national John Ridsdel in April. Both the Canadians and many others were taken hostage by the Islamic State (Isis) linked jihadi group in September 2015 from a holiday resort.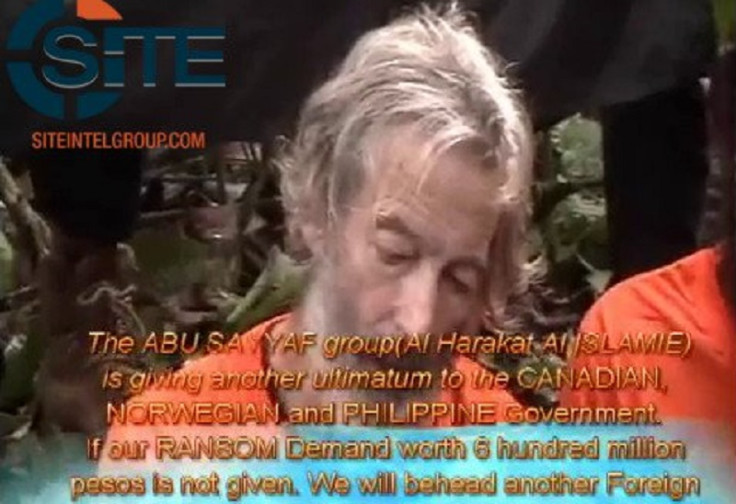 Abu Sayyaf reportedly released a video of the gruesome beheading of Robert hall. The 90-second video shot in some forest shows Hall kneeling before two militants with his hands tied at the back. He is seen wearing an orange t-shirt and black sweatpants. One of the militants is seen holding a big knife in one hand and holding Hall by his hair. The other militant, meanwhile, is seen reciting something in Arabic. After beheading Hall, the militants hold up his severed head and show it off on the camera while the militants shout Allahu Akbar (God is great).