A large-scale cannabis farm thought to be worth more than £1m (€1.18m, $1.25m) has been discovered in a former underground nuclear bunker in the south-west of England.
Several thousand cannabis plants were found following a midnight raid of the ex-Ministry of Defence facility near Chilmark, Wiltshire.
Police said almost every one of the building's 20 large rooms – split over two floors – had been converted for the wholesale production of the class B drug.
Six people, the youngest aged just 15, have been arrested on suspicion of drug and human trafficking offences.
The underground bunker, named RGHQ Chilmark, is a Cold War relic built in the 1980s to house and protect government officials and local dignitaries in the event of a nuclear attack.
With its bomb blast doors still in place, officers raiding the site on Wednesday night (22 February) said they had to wait until three of the suspected drug gang left the "completely impenetrable" bunker so they could use their keys to gain access.
Once inside, officers found three other people, believed to be operating as gardeners, along with several thousand cannabis plants at various stages of growth.
Detective Inspector Paul Franklin, of Wiltshire Police, said: "There are approximately 20 rooms in the building, split over two floors, each 200ft long and 70 ft wide. Almost every single room had been converted for the wholesale production of cannabis plants, and there was a large amount of evidence of previous crops. This was an enormous set up.
"At this early stage of the investigation it is almost impossible to work out how many plants are inside, but we are talking thousands rather than hundreds and we would estimate the value of the crop at over £1 million. I am convinced it is one of the largest crops ever discovered in Wiltshire."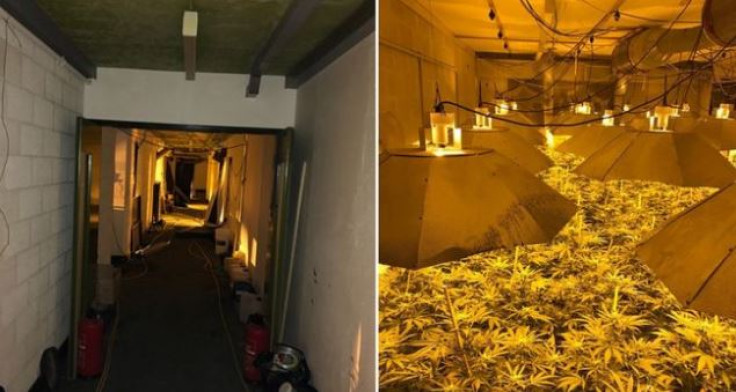 The three males found inside the bunker – aged 15, 19, and 37, all of no fixed abode – were arrested on suspicion of cannabis production and taken into custody.
Three other males detained outside of the bunker – aged 27, 30 and 45, all from Somerset – were arrested on suspicion of cannabis production and human trafficking offences.
RGHQ Chilmark used to be owned by the MoD but was sold in 1997 at a sealed bid auction.
Det Insp Franklin added: "The actions of officers last night took a large amount of planning and teamwork, and I am very pleased that it has been so successful. This is the largest and most sophisticated cannabis factory I've ever experienced and I am delighted that we have been able to take such a large amount of illicit drugs off the streets of Wiltshire before they are able to reach vulnerable people within our communities."