Hearts were broken when Pippa Middleton announced she would be getting married to hedge fund manager James Matthews next summer. Now the wedding location has been decided; her local church followed by a reception at her parents' home in Bucklebury.
The low-key ceremony should be markedly different to her older sister's nuptials to Prince William at Westminster Abbey in 2011, and will take place at St Mark's Church in Englefield, Berkshire, reported The Sun.
Wedding invitations will be sent out to family and friends along with their Christmas cards to celebrate the couple's union, who first met in 2012. They later went their separate ways and Pippa was in a three-year relationship with financier Nico Jackson. But their romance rekindled in September last year after she was spotted leaving his place in Chelsea and have been inseparable ever since.
Pippa was said to have been surprised by James's proposal in July, who was said to have knelt down and asked for her hand in marriage while walking in the Lake District together.
Shortly after, the pair released a statement, announcing their good news: "Miss Pippa Middleton and Mr James Matthews are delighted to announce they became engaged on Sunday 17th July and plan to marry next year."
A friend of the Middletons reportedly said at the time: "Mike and Carole are very happy. They like James and they are sure he will make Pippa very happy."
The Daily Mail reported she will walk down the aisle in a £10,000 gown, which she hopes will "overshadow the dress that she wore to sister Kate's wedding".
David Emanuel, 53, who designed Princess Diana's wedding dress advised that Pippa avoid replicating her sister's wedding gown.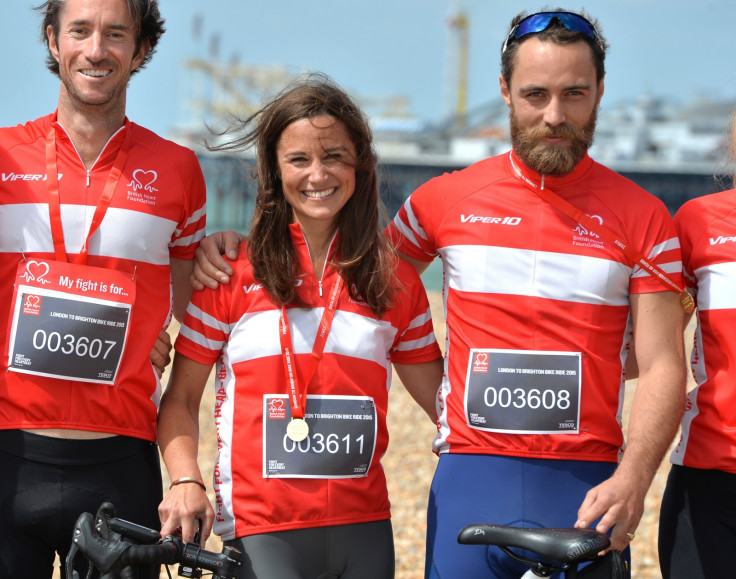 "As long as it's the complete opposite of the Duchess of Cambridge – then she stands a chance," he said according to the Daily Mail. "She's not a royal; she's not going to be a royal. And that's all I'm saying.
"I personally, would put her in something very soft, perhaps chiffon, with a train of course because it's dramatic," he continued. "Possibly a little lace bodice, soft and fluid, I mean she's got a great shape."
Earlier this year, she was one of many victims of an iCloud hacker after a man offered to sell 3,000 private photographs for £50,000 of her and hedge fund manager fiancé James Matthews to the press.
The images were said to have included photos of her at a fitting for her wedding dress, naked shots of her fiancé, as well as pictures of the Duke and Duchess of Cambridge with their children Prince George and Princess Charlotte.
The High Court banned the publication of the photos ensuring that her photos and videos are not leaked to major news media outlets, after Pippa launched a civil action.