Pokémon Go players who have used third-party apps or unofficial software are reporting that they have received emails from developer Niantic notifying them that their account will be "terminated". While the email in circulation on social media includes an appeal link, those who are unsuccessful have been warned that their account will be banned "permanently".
An image of the ban notification email first appeared in a Reddit post by user "zslayer89" on 18 August. Since the initial post, several other users have claimed to receive the same email and while some have judged it to be a rogue phishing scam targeting worried players, others have noted that their Pokémon Trainer Club accounts no longer work follow the receipt of the email.
The email reads: "Your account has been terminated. Use of any other third-party software or app, including but not limited to scripts/apps, applications used to falsify your location, emulators, modified or unofficial software, and/or accessing Pokemon Go clients or backends in an unauthorized manner is considered cheating"
The appeal link is then included for those who believe they have not breached the app's terms of service, followed by: "Please consider your account permanently terminated unless we reply back to your appeal."
Multiple Pokémon Go fans in zslayer89's thread and the "pokemongodev" Subreddit have noted that they have been on the receiving end of the email, but can still login via their Google accounts despite being locked out of the Pokémon Trainer Club.
The majority of players who have received the notification note that they had previously uploaded their information to the unofficial stat-tracking site PokéAdvisor, which was seemingly taken down by Niantic at the beginning of August.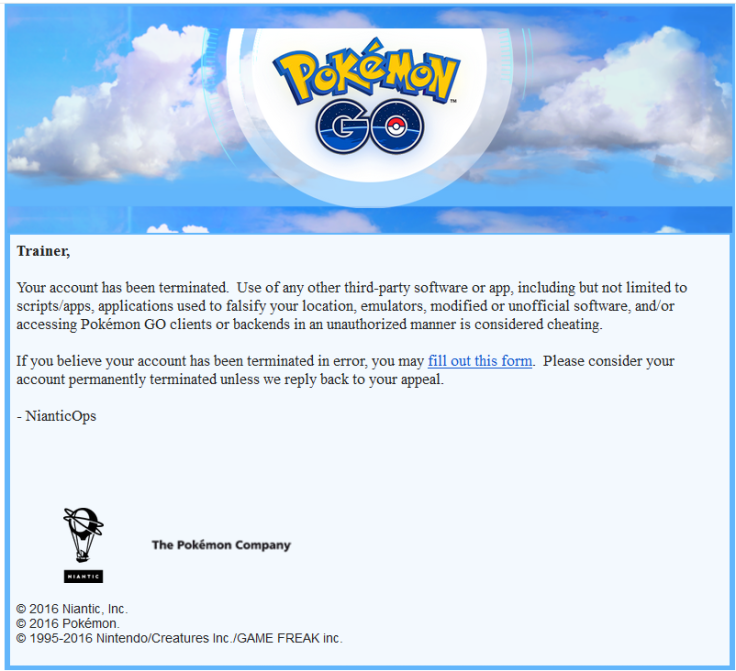 Aside from stat-tracking, third-party GPS-spoofing apps – used to hatch Pokémon Eggs and find wild critters without having to physically move - have been widely available for Pokémon Go since it launched to huge success in July. Apps that located nearby Pokémon also became popular, with desktop websites such as PokéVision (since disabled by Niantic) and unofficial mobile applications seen by some fans as a solution to Pokémon Go's less-than-stellar "Nearby" feature.
Reports of lifetime bans for players caught violating the game's terms of service started to emerge last week. Prior to this, Niantic's CEO John Hanke explained the decision to shutdown third-party tracking software and other unofficial apps, stating that the challenges in running the wildly popular app "have been amplified by third parties attempting to access our servers in various ways outside of the game itself."
IBTimes UK has contacted Niantic for confirmation of the email's legitimacy.