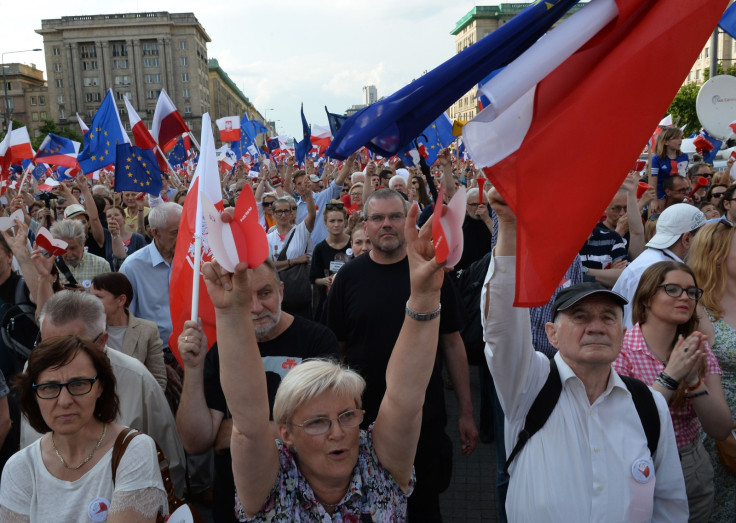 Two former presidents of Poland, Aleksander Kwaśniewski and Bronisław Komorowski, led a march in country's capital Warsaw which was to mark the fall of Communism in Eastern Europe, but also was a protest against the country's current right-wing government. Komorowski, a centrist, told the crowd, "We want a free Poland because we fought for it, we dreamed about it and we built it."
The rallies in Warsaw and other cities in Poland were organised by the Committee for the Defence for Democracy (KOD), a civic movement that sprung up after the ruling Law and Justice Party (PiS) was elected into power in November 2015, BBC reported. The police said around 10,000 people took part in the rallies while city authorities put the number at 50,000.
KOD says the Law and Justice Party government is trying to dismantle the rule of law and Poland's constitution. KOD co-founder Krzysztof Łoziński, told German news agency DPA, "PiS leader Jaroslaw Kaczynski did not expect this: that people would wake up to the cause of freedom."
According to BBC, the protesters wanted to celebrate the fall of Communism after the 4th June 1989 elections, but also wanted to voice their anger against the undemocratic manner in which the government is behaving.
Earlier this week, European Union and The Council of Europe expressed concerns about Poland's judiciary, surveillance and media laws, in an assessment of the first few months of the Polish government time in office. The organisations said that the changes brought in by PiS undermine the rule of law in the country – one of the key factors to EU membership.
However, the Polish government has dismissed the criticism and said that it's merely the opinion of EU. Foreign Minister Witold Waszczykowski said, "What right the [European] Commission has to judge anything?"
"It is not binding for us. We treat this document that has arrived as an opinion, as a suggestion," he told state radio.
Since the governing Law and Justice party (PiS) came into power, it has passed amendments that changed the way Poland's Constitutional Tribunal – a court that oversees new laws – works, placed state-run media under government control, and police surveillance powers have been increased.