Donald Trump will visit Poland during his trip to Europe for a G20 summit, where the right-wing press in America predicts its president will receive a hero's welcome.
Polish politics has shifted right in recent years, marked by the election to government of the Law and Justice Party, a hard-right nationalist conservative party fuelled by populism, traditionalism, and Christianity - not a million miles away from Team Trump's agenda.
In a White House media briefing before the state visit, which coincides with a G20 meeting in Hamburg, Germany, General H. R. McMaster, one of Trump's national security advisers, emphasised that Poland is "a staunch Nato ally and of a nation that remains one of America's closest friends".
McMaster said Trump will deliver "a major speech to the Polish people at Krasiński Square, epicenter of the 1944 Warsaw uprising against the brutal Nazi occupation".
He added that "the main message is that America is with you, America understands that its interests align with the interests of the Polish people, and we are determined to do our best to work together on our common priorities and our common interests."
The Polish government has seen mass protests against its rule. It is accused of making anti-democratic reforms, such as the erosion of an independent judiciary, and has cracked down on LGBT and women's rights, earning it scathing criticism from human rights groups.
But Poland promised Trump a warm welcome when inviting him for a state visit, and it is doing everything it can to manufacture adulatory crowds.
The Republican president is wary of big protests against him in countries he visits, such as the UK, where he will only give a day's notice before he turns up to deter anti-Trump activists promising to turn out in force when he arrives.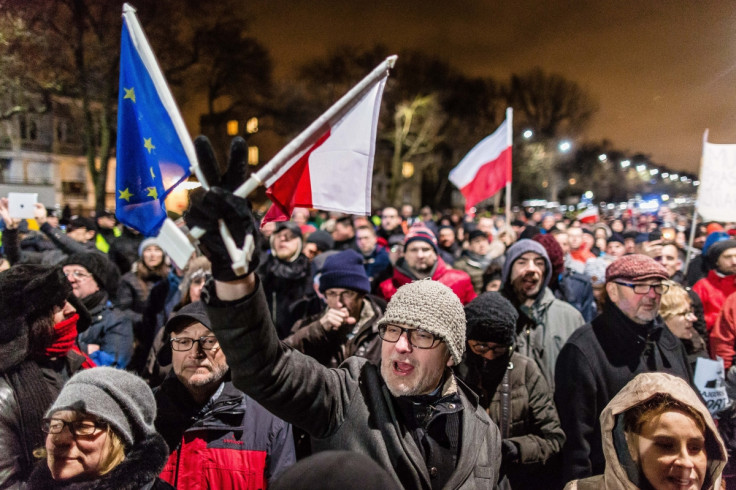 So the Polish government is, according to Associated Press, busing in Trump fans from across the country to the capital Warsaw so they can watch his speech in person, and give him the fawning reception he wants.
Critics of the Polish government warn that its hardline nature will isolate the country, particularly in the European Union, so a visit by the head of state of the world's only superpower is something of a coup for the Law and Justice Party.
Jaroslaw Kaczynski, chairman of the Law and Justice Party, said other countries "envy" Trump's visit to Poland - so he does not want the spectacle to turn into an embarrassment. And that's why the party needs images of cheering crowds greeting Trump.
That Trump has admirers in Poland does not mean he is popular there. According to the Pew Research Center, a pollster, just 23% of Poles have confidence in Trump, compared to 57% who have no confidence in him. This is, however, better for Trump than the global average of 18% with confidence and 79% with no confidence.
The question now is can the Law and Justice Party keep the anti-Trump voices quiet while he visits? Or will Trump's worst nightmare come true: a humiliating mass protest against him?