Police were forced to separate fans of West Ham and Chelsea, as violence erupted and plastic chairs were thrown in the stands during an EFL Cup game on Wednesday (26 October).
Police and stewards were forced to separate opposing supporters at the London Stadium as clashes occurred in the final minutes of a high octane London derby.
The Hammers won the match 2-1 with goals from Cheikhou Kouyate and Edmilson Fernandes in each half as they surged into the quarter-finals of the rebranded EFL Cup.
As the match came to a close, angry encounters were seen in the Trevor Brooking end of the stadium where the away fans –believed to number around 5,200 – were sat.
Fans were seen squashing security staff as they battled to get at each other with one fan breaking through the security divide and standing on top of sheeting dividing the two sets of supporters.
The competition's rules mean that 10% of each stadium's seats must be offered to the away team, meaning a substantial increase in away fans at a stadium which has already seen violence with fewer travelling supporters.
The ugly scenes erupted despite warnings from London's Met Police after violence at the stadium when West Ham played Premier League matches against Bournemouth, Watford and Middlesbrough.
Before the match, both clubs called for calm amongst supporters in what was promising to be an explosive derby.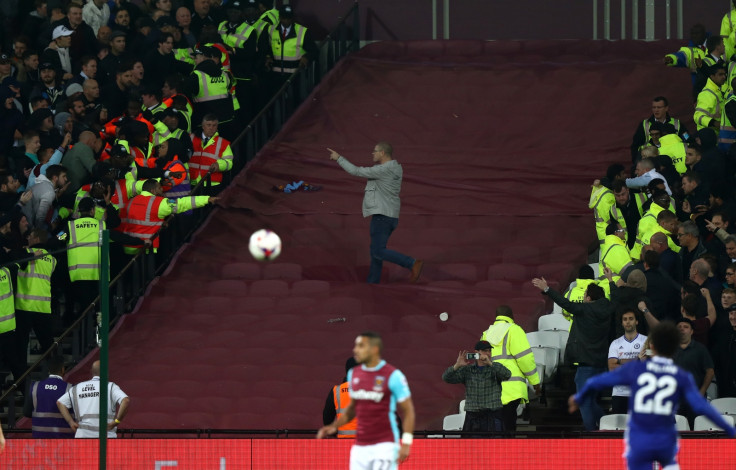 Fans alleged that violence continued as legions of supporters made their way to Stratford tube station after the game with rows of riot officers and police vans on the streets. Oliver Todd tweeted: "Outside, kicking off between fans as the Olympic Park meets the route to Stratford Station. Police, overwhelmed, intervening with batons."
The stadium has seen its fair share of criticism after fighting seen inside and outside the ground between home fans, away fans and stewards. The explosive fixture was seen as a test for security after previous policing issues.
Earlier in the day, images were released by police of seven men they wanted to identify after clashes at the former Olympic venue.
The wanted men were said to have been involved in clashes at the Hammers' 1-1 Premier League draw against Middlesbrough on 1 October. Four people have been arrested over the disorder while a fifth man has been charged with ticket touting at the game.
Before the match West Ham said in a statement "For the safety and security of all supporters there will be an enhanced body search policy at the turnstiles, so both home and away supporters are encouraged to arrive early to ensure quick access to the Stadium."