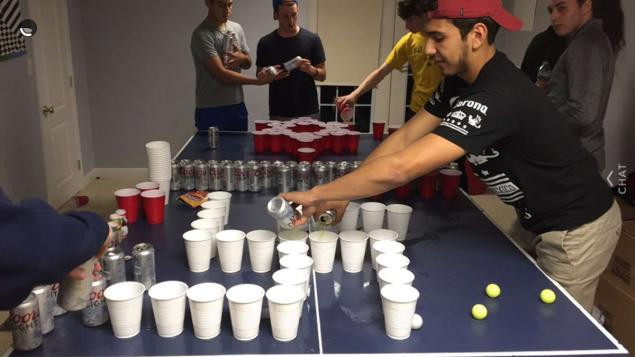 A Snapchat photo shows what appears to be an inflammatory version of the 'beer pong' drinking game, with cups placed in the formation of a swastika and a Star of David. Students from Princeton High School in New Jersey are photographed around a table with several cans of Coors Light beer.
The image allegedly shows young male students apparently playing "Holocaust Pong" or "Alcoholocaust". According to the rules of the game, the team of 'Jews' receives an 'Anne Frank' cup that they need to hide in the room where the drinking is taking place. The 'Nazi' team has the capability to 'Auschwitz' an opponent, who then sits out of the game.
Student Jamaica Ponder, who blogged about the photo on her website, told NJ.com the students were her classmates. She did not identify the people taking part in the beer pong game, but said they were "athletes and student leaders'' in the school. Her blog post was shared on Facebook over 1,000 times.
The 17-year-old wrote, "Well, perhaps it is a joke. But then I guess the punchline would be: genocide. Pardon me if I don't find that to be hilarious."
"They must be trapped in the delusional mindset that making a drinking game based off of the Holocaust is cool. Or funny. Or anything besides insane," she added. "Because that's what this is: insanity. I'm not even Jewish and I'm still offended."
The Princeton police department are continuing an investigation into the event which was posted on Snapchat. Steve Cochrane, Princeton Superintendent said he was outraged at the "clearly anti-Semitic" overtones of the student drinking game.
Joshua Cohen, a regional director of the Anti-Defamation League, which says its aim are to stop the discrimination against Jewish people and to secure justice and fair treatment to all, said the photo is "both alarming and outrageous".
"I think an incident like this underscores and highlights a number of different issues," Cohen told the Forward. "One, the trivialisation of Nazis, Hitler and anti-Semitism by teenagers. I think it underscores the critical need for Holocaust education."