A police officer has died in angry clashes between rival supporters in Bilbao ahead of a Europa League match.
Authorities in the Basque city say that an officer died on Thursday (22 February) ahead of the match between Athletic Bilbao, from Spain, and Spartak Moscow, from Russia.
Supporters from both sides were seen battling each other around the San Mames stadium in the hours building up to their second leg fixture.
Fireworks were seen flying at fans while riot police struggled to keep control of the fighting hooligans that were seen fighting across the city.
It was reported that five people were taken to the Basurto University hospital before it was announced that a member of the the Basque civilian police, known as the Ertzaintza, had died.
The Bilbao police released a brief statement on social media that said: "Our condolences to colleagues, friends and relatives of the Ertzaintza deceased in Act of service. Rest in peace. Goian Bego."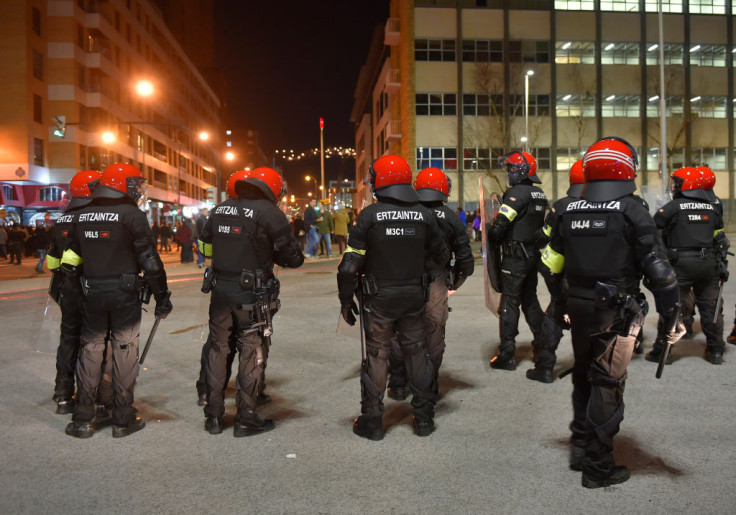 Some reports suggested the police officer may have suffered a cardiac arrest, but this was not confirmed by Spanish authorities.
It was also reported that at least five people were arrested as bottles and other glasses were thrown at each other.
It was feared that Russian Ultras had joined other fans and travelled to Spain without tickets and meeting at the Plaza Moyua at 6.30pm, when the first scuffles were reported.
After the game, Athletic Bilbao, tweeted: "Our heartfelt condolences to the family and companions of the deceased officer today.
"The Athletic Club shows its strongest rejection of the violence generated around football."
The La Liga club had emerged victorious in the first leg in Russia last week, running out 3-1 winners in Moscow while Spartak won the second leg 2-1 meaning Athletic move onto the next round.
La Liga president Javier Tebas added: "Ultra violence has claimed the life of a public servant - that's enough. La Liga will continue with our policy of combating the ultra phenomenon, until its total eradication."