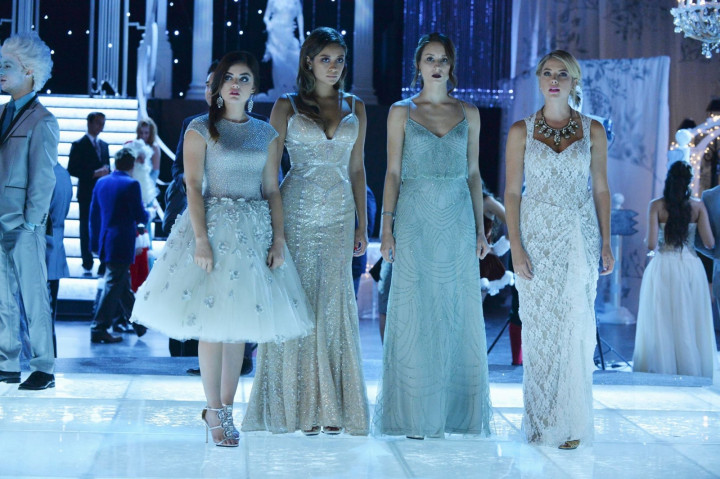 Pretty Little Liars' Season 5 summer finale ended with the shocking death of Mona and fans were left wondering if Alison is the real 'A'.
But Janel Parrish has hinted that her character Mona Vanderwaal will be back during the winter premiere episode of Season 5 How The 'A' Stole Christmas.
"She's going to be the Ghost of Christmas Past, Present and Future," Parrish revealed. "She gets to mess with Alison — and in a fabulous costume, I might add," Parrish told TV Line.
The recently released promo of the episode shows Alison making a grand entry to the Christmas ice ball party but with a new set of girls while the liars Aria, Hanna, Spencer, and Emily stand stunned at the appearance of the former Queen Bee.
There was another suspicious presence in the party overtly clothed in a white winter coat and TV Line suspects it might be 'A'.
So, does that mean Alison is innocent, and her suspicious attitude during the summer's fatal finale had nothing to do with her connection with the dreaded villain of Rosewood?
There are rumours that Ezra and Aria might reunite and cosy up romantically during the winter season of PLL.
Meanwhile, show creator Marlene King has tweeted about her excitement at being able to put on the director's hat for the Christmas special episode.
"I am extremely excited to write the PLL Christmas episode. And I'm directing that one too! @PLLlittletheory."
Pretty Little Liars Season 5 will air its next episode How The 'A' Stole Christmas in December this year on ABC Family.