The special 5 Year Forward episode of Pretty Little Liars season 6 revealed many important facts about the liars Emily, Alison, Aria, Hanna and Spencer. As of now fans know that all the girls except Ali will move out of Rosewood after the events of big A reveal.
While everyone will have a fairly good life in their respective career, but Emily will have the worse five years when the show returns in January as her father will die while performing his duty in the army. After which she will drop out of university and later will take up a bartending job.
Show Creator Marlene King revealed that Shay Mitchell's character will bring the biggest secret to Rosewood when the girls will meet again. "I think Emily comes back with the biggest secret. I think that you three create secrets in our first episode… but Emily comes back with a big secret, which we won't spoil." she said during the special episode.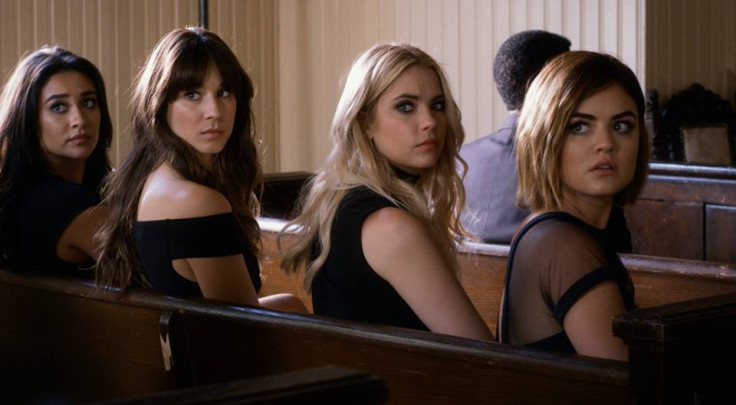 The special episode also reveals that Emily will get back to Paige despite of the fact that the latter once tried to drown her.
Alison will be shown working as a teacher and will ask her friends to return to Rosewood and give a good testimony for her sister Charlotte (aka CeCe Drake aka A). The promo of the upcoming episode shows that the girls will come to help Ali even though they are still scared of the A nightmare.
The series will also introduce another big bad villain who will not just scare the girls, but will kill 'people' around them. There are chances that he/she is the same person who killed Mrs DiLaurentis in season 5.
The episode also revealed that Radley Sanitarium is now a hotel and Spencer will stay in the Hastings' barn as she will be helping her mother in her political goals. Aria has a new boyfriend in the office, but still works with Ezra.
Hanna is now a fashion assistant and found a new boyfriend in Europe after breaking up with Caleb. Pretty Little Liars season 6 will premiere on 12 January 2016 with the rest of the episodes on ABC Family which will change its name to Freeform in the same month.