Prince Harry mocked in 'Spare' parody coming in April
"All I had ever wanted was privacy. In order to get it, it seemed that an exceptionally detailed 500,000-word book was in order," reads the synopsis.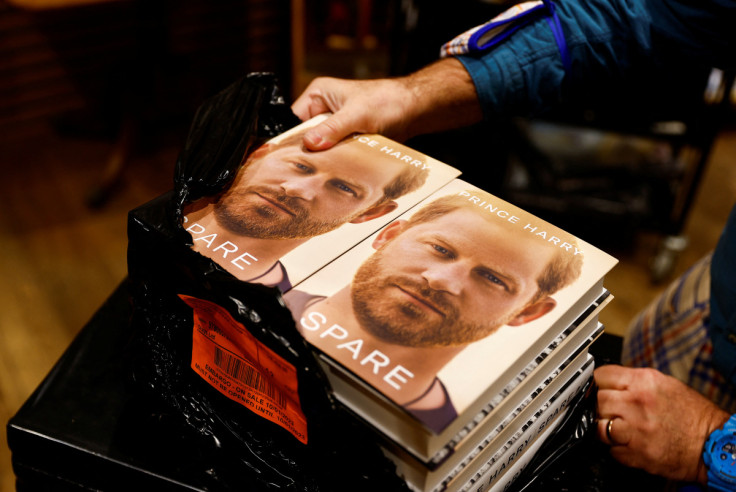 A spoof version of Prince Harry's memoir "Spare" is set to land on bookshelves in April and it will poke fun at the details the royal shared about his life.
The book by author Bruno Vincent is called "Spare Us!: A Harrody" and features a different photo of the Duke of Sussex on the front cover with a large "X" covering his mouth. Amazon provided a synopsis of the book which read, "All I had ever wanted was privacy. In order to get it, it seemed that an exceptionally detailed 500,000-word book was in order..."
"He was born into an ancient powerful dynasty and, through no fault of his own, became one of the most recognisable men on the planet. His life was a constant barrage of press intrusion and manipulation. Until finally, he demanded that it stop."
The synopsis continued, "In order to get the privacy he so craved, he has written a warts-and-all book that goes deep inside the castle walls and exposes every shouting match, fist-fight, betrayal, teddy bear, awkward hug and tear-stained wedding rehearsal for the world to feast their eyes on. All for privacy! This is his story."
Amazon listed the publication date for "Spare Us!: A Harrody" as April 6, while publisher Little, Brown Book Group announced its release date on April Fool's Day, April 1. Vincent is famous for his parodies of Enid Blyton's books.
The parody hits out at Prince Harry and Meghan Markle's request for privacy after they left their royal duties in 2020, which according to the public contradicts their actions. They talked about their former royal life and hurled complaints against The Firm and the royal family in their interview with Oprah Winfrey in March 2021. They also released their Netflix docuseries "Harry & Meghan" on Dec. 8, 2022. The series gave viewers a glimpse into the early days of their relationship and again targeted certain members of the royal family and The Firm.
The Duke of Sussex has also sat down on other interviews for BetterUP in which he talked about his mental health in relation to his upbringing. In doing so, he threw his family under the bus. Then on Jan. 10, he released his memoir called "Spare" to a mix of reactions from readers.
There were some who felt sympathy towards him after reading the book while others thought he was complaining again despite his privileged life. In his memoir, Prince Harry talked about the incident when Kate Middleton made Meghan Markle cry days before their wedding in May, which "Spare Us! A Harrody" referenced as a "tear-stained wedding rehearsal."
The duke also talked about a heated argument he had with Prince William which ended with the latter physically attacking him. The parody referred to this as "every shouting match, fist-fight."
Amid the praise and criticism, the 38-year-old royal was said to be relieved and happy that he was finally able to share his story. He is also happy with the success of his memoir, which reportedly sold 1.4 million copies of the English language version alone on its first day of publication.
But despite its success, members of the royal family have remained mum on the revelations in the book. They have continued to stand by the royal decree of "never complain, never explain" and carried on with their royal duties instead.
Vincent is among the many who have mocked Prince Harry's "Spare." Comedians Jimmy Kimmel, Chelsea Handler, and Trevor Noah have all poked fun at the royal's "frostbitten penis" revelation in the book. The comedy series "South Park" also parodied Harry and Meghan Markle's quest for privacy in an episode called "The Worldwide Privacy Tour."
© Copyright IBTimes 2023. All rights reserved.