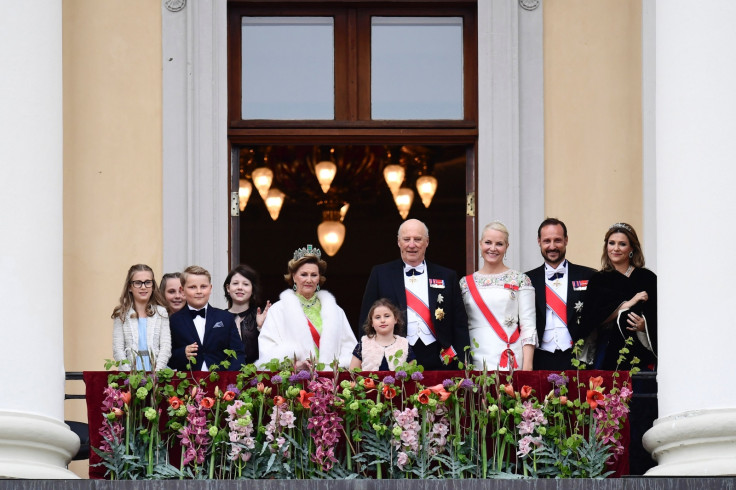 He may be the third in line to succeed his grandfather, King Harald V, but Prince Sverre Magnus of Norway is just as mischievous as any other boy of his age.
The 11-year-old Norwegian prince broke the protocol on the royal balcony of Oslo's Royal Palace during celebrations for the King and Queen Sonja's 80th birthdays last night (10 May).
Amid the other graceful, well-behaved children, Sverre briefly stopped waving to the crowds and instead pulled a dance move know as a dab, and a clip of it has gone viral across the globe.
Following the hilarious move, Sverre was seen grinning uncontrollably as he stood next to his famous family, and has now become a firm favourite royal with the Norwegian public.
The dab dance move – unexpected to be adopted as the new royal wave – is popular among sports celebrities in particular including Manchester United midfielder Paul Pogba after scoring goals.
The dab involves pointing one arm upwards towards the sky while also bowing your head into your other arm, and little Sverre nailed it on the royal balcony. It is thought to have derived from Atlanta by rappers from the group Migos.
Watch Prince Sverre throw the dab dance move:
The cheeky prince followed the move up by smiling, pulling silly faces and amusing his cousins as they stood next to their grandparents, proving that despite his status, he is just like any other playful 11-year-old boy.
And it's not the first time Sverre has garnered attention for his mischief. The youngster has been caught on camera pulling faces before and was captured yawning and picking his nose during the Norwegian Constitution Day celebrations in Oslo.
Sverre is third in line of succession to the Norweigan throne following his sister Princess Ingrid Alexandra, and as a descendant of Maud of Wales, is also in the line of succession to the British throne, between his father and sister. His parents are Haakon, Crown Prince of Norway and Mette-Marit, Crown Princess of Norway.