Prison Break stars Wentworth Miller, Sarah Wayne Callies and Dominic Purcell will return for a limited edition revival series on Fox.
[Spoilers Ahead] Wentworth Miller confirmed the news at this year's San Diego Comic-Con, and dished on schedule clashes with him and Purcell busy filming the Legends Of Tomorrow.
"['Legends of Tomorrow'] is the priority ... but at some point, if 'Prison Break' does come together in some way shape or form, assuming Michael is still alive, that's in the offing, yeah," Miller told TV Line at Comic-Con.
The actor dropped a major spoiler: Michael could be alive.
His co-star Dominic Purcell pointed out that another Prison Break character Sara Tancredi (Sarah Wayne Callies) may return to the show. "I mean, Sara was dead," he said. "The [concept] that I've heard is completely brilliant, so people will be fine."
Sarah Wayne Callies spoke about the Prison Break revival at Comic-Con 2015 and teased a Michael and Sara reunion.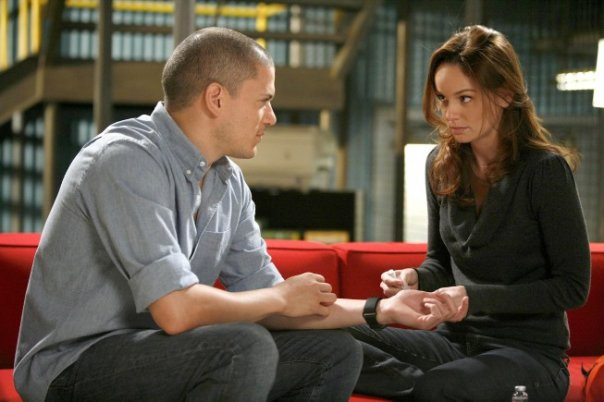 Callies told Digital Spy that an important producer contacted her and told her she'd be getting a call in a couple of months. "If they're going back and the scripts are good, maybe we've got more story to tell," she said.
Callies is starring in USA's new drama Colony, and she may be able to fit Prison Break in since the shows share an executive producer, Dawn Parouse Olmstead.
"If there's anybody who has incentive to let me sneak off of set for a little bit and cross over to another lot, it would be Dawn," she teased.
Prison Break season 1 to 4 aired on Fox from 2005-2009, which followed the life of two brothers, Michael Scofield and Lincoln Burrows.
A structural engineer by profession, Michael Scofield helps his brother, who is wrongly accused of murder and is sentenced to death, to break out of prison. Along the way, Michael falls in love with Sara (Sarah Wayne Callies), a doctor at the prison. They get married and Sara is shown pregnant by the end of the series. However, the show ended with Michael dying of a cancerous tumour.
In the epilogue of the series set four years later, Sara is shown living in Costa Rica with her son, Michael Scofield Jr. In the last scene, Sara lays flowers on Michael's grave and the series ends with all the characters walking towards the seaside in the sun.
Here are a few things we want to see in the limited series.
1. Michael Scofield and Lincoln Burrows's return: The revival will be a limited series affair, and will reportedly reunite the two stars, Miller and Purcell, who escaped from prison in the original run. Both of them have confirmed they will return to play the fan favourite characters, Michael Scofield and Lincoln Burrows.
2. Michael and Sara's reunion: As both Miller and Callies have confirmed their return, it could imply that there will be a Michael and Sara reunion in the show.
According to a reddit user, Michael may have been asked to fake his death and thereby could return to reunite with Sara in Fox's revival series.
"Maybe the government allowed Michael to save Sarah and break her out but under one condition, he had to secretly work for the government, showing the flaws off max security prisons or drawing blue prints for max security prisons to hold in really dangerous people. So they made him fake his death in order for no one to wonder where he was or for no one to look for him," the user explained.
"He is then held in a secret underground facility working under the threat of them knowing where Sarah and Lincoln are and arresting them (as they are technically fugitives), leaving Michael and Sarahs son alone. But somehow Michael gets a message out to Sarah and Lincoln, telling them to run and hide, never leave L.J or Michael (Jr.) alone. He then breaks out of the secret underground government facility."
3. Go back to basics: The first and third seasons of Prison Break featured attempts to escape from a high security prison, and the second followed our fugitives on the run. If Fox is reviving the series, it should go back to basics, like the prison breakout and keep up with the thrill and mystery element in the series. The series could dig deeper into the sinister covert organisation The Company, or dig deeper into the Scofield / Burrows family tree.