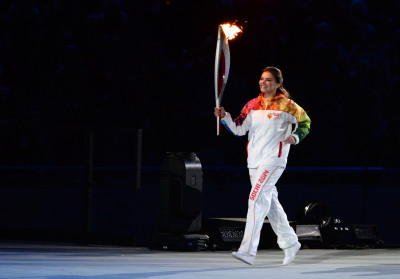 Alina Kabayeva, an Olympic gold gymnast and President Vladimir Putin's rumoured lover, has been appointed the head of a major Russian media group.
Kabayeva, 31, will run the powerful National Media Group (NMG), which owns stakes in several pro-kremlin newspapers as well as a 25% stake in the state-run Channel One television.
"Alina Maratovna [Kabayeva's patronymic] has accepted the offer of our shareholders to chair the board of directors," National Media Group spokeswoman Oksana Razumova said, AFP reported.
The announcement came a day after the former athlete surprisingly resigned as lawmaker for the ruling United Russia party in the State Duma.
Formed in 2008, NMG is owned by Yuri Kovalchuk, a banker and a lifetime friend of Putin.
The largest shareholder of Rossiya Bank, Kovalchuk, who is often called "Putin's banker" and has been referred to as one of his "cashiers", was targeted by US sanctions earlier this year.
Kabayeva's appointment for the NMG top job came as a surprise in Russia, as local media claimed she had no media experience other than hosting a television chat show.
Kabayeva is a former Olympics champion, winning a gold medal for rhythmic gymnastics at the 2004 Olympics in Athens and a bronze in Sydney four years earlier.
Born in the Uzbek capital of Tashkent when it was part of the Soviet Union, she retired from gymnastics in 2007 and immediately started a new life as a MP among Putin's party ranks.
Rumours that she was secretly dating the President - who is 30 years her senior – started spreading shortly afterwards.
In 2008 Moskovsky Korrespondent newspaper printed a story claiming Putin was to divorce his wife of almost 30 years, Lyudmila, for Kabayeva.
A few days later the paper was shut down by its owner Alexander Lebedev, a former KGB agent who also owns Britain's The Independent and the London Evening Standard newspapers.
Putin eventually announced his marriage to Lyudmila was over in June last year. His affair with Kabayeva has however never been officially confirmed.
In February she was selected as a torchbearer in the flame-lighting ceremony at the Sochi Winter Olympics.