The future of smartphones may have taken an exciting new twist literally, after scientists have successfully created the world's first flexible phone that can control apps and features by bending it.
Called the ReFlex, the smartphone features a full-colour, high-resolution, multi-touch flexible display that allows users to interact with apps using bend gestures. In a video uploaded by the research team at Queen's University Human Media Lab it shows a user flicking through the pages of a comic book or catapulting an Angry Bird simply by bending the device. While the likes of LG and Samsung have shown off flexible displays in the past, the ReFlex is the first to use its curves for control.
"This represents a completely new way of physical interaction with flexible smartphones," says Roel Vertegaal director of the Human Media Lab.
The device is based on LG's flexible OLED display technology, which has literally rolled out on prototype smartphones and, more recently, on its television display at CES. Use on the ReFlex represents one of the most accurate interactions with virtual objects ever seen through a mobile phone.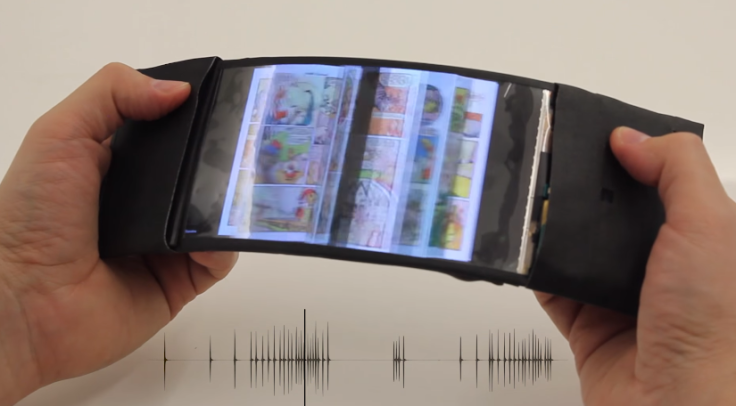 The ReFlex will not only be able to control apps but will also offer users physical tactile feedback as it senses how strong the force of the flex is thanks to bend sensor strips located on the rear of the handset. As an example Dr Vertegaal explained: "When a user plays the "Angry Birds" game with ReFlex, they bend the screen to stretch the sling shot. As the rubber band expands, users experience vibrations that simulate those of a real stretching rubber band. When released, the band snaps, sending a jolt through the phone and sending the bird flying across the screen."
As with the demo of a user flicking through the comic book, the tactile feedback will allow users to actually 'feel' as if the pages are passing through their fingers. Integrate this technology into some apps and we could see a whole new dimension to how we use our smartphones.
When might we actually see one of these flexible phones?
According to the team of researchers working on the ReFlex they believe the bendable smartphone will be brought to market within five years. However, consumers may not have to wait as long as that with major manufacturers reportedly working on malleable mobiles, including Samsung who teased gadget fans with a foldable smartphone at the end of 2015 with rumours it would launch sometime in 2016.