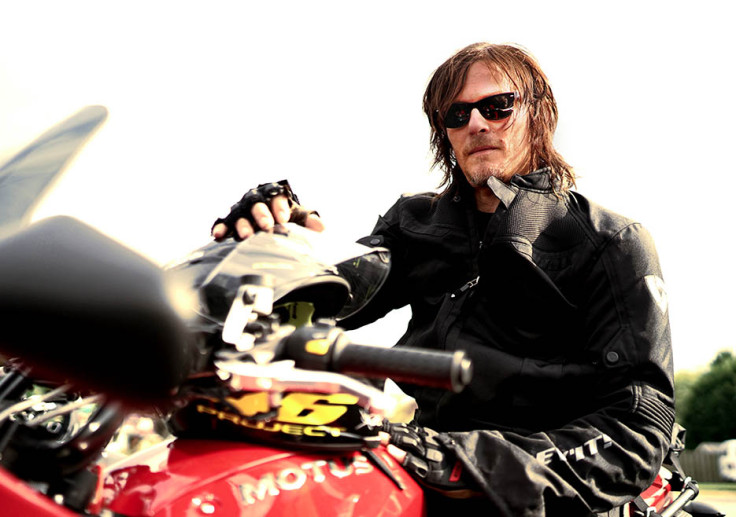 Norman Reedus's cross country ride will come to an end as the finale of season 1 airs on Sunday (17 July) on AMC. The travel-documentary - Ride with Norman Reedus - has taken The Walking Dead actor across the US from California to Louisiana and now Miami for the finale.
In episode 6, Reedus meets up with fellow biker and actor Peter Fonda as the two visit the shop of a Miami motorcycle builder to test out his custom bikes. The TV zombie killer saves the best for last; talking about how the Easy Rider actor was the reason he became interested in motorbikes.
"This one with Peter, he's such an icon, and then to sit there with him and talk about his life... I kind of just geeked out on everything he said. He's such an extraordinary person," Reedus told Yahoo TV.
"Hanging out with one of your idols is a lot like when you realize your parents are people just like you are," he added to Channel Guide. "It's like a blind is lifted and you see them as they really are."
On the upcoming show, the two actors talk about their first meeting. "I first met Peter when I was in Los Angeles ages ago. He just happened to knock on my door because he was shooting a commercial out front," Reedus shared with Channel Guide, in an interview earlier this year. "I had an Easy Rider poster hanging up on my house and he knocks on my door. He says, 'Can I use your phone? I can't get reception up here.' I was like, 'Yeah, if you sign this poster.' That's how I first met him. Then later I did a movie with him, but he wrote on that poster. He wrote, 'Ride hard, or stay at home'.
"That quote pretty much sums up Peter. I think that quote's designed for Peter and his life and you learn the truth behind that as you watch this episode unfold," the show's host added.
In the final episode of the season, Fonda also goes not to narrate stories about opium-laced joints and Earnest Hemingway.
Find out more about what the two actors discuss and which mean machines they try out in episode 6 of Ride with Norman Reedus which airs on Sunday, 17 July at 10/9c on AMC. Watch the show online of the network's official website.