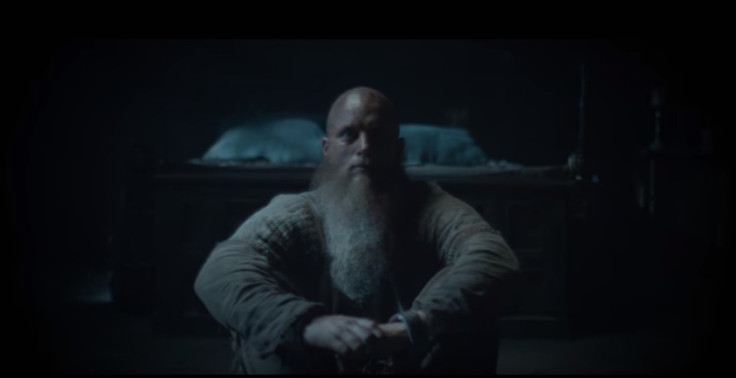 A new teaser for Vikings season 4 has been released by History Channel that offers a glimpse at the lead characters, King Ragnar, his former wife and shield-maiden Lagertha, their son Bjorn, boat-builder Floki and his son with wife Ivar the Boneless and Aslug.
In the video Ragnar's appearance is the most striking as the disgraced Viking lord appears abandoned. In the second part of the season 4, the King of Kattegat is set to take a backseat while his grown-up children and Bjorn will lead the Viking army on the missions.
Teasing a major battle ahead, Alex Høgh Andersen posted a set picture on Instagram revealing his character Ivan smeared in blood while holding some weapons. Details about the war and how the Lothbrok sons will fare in them will only be known after the show premieres.
As of now, fans need to wait for the upcoming San Diego Comic Con where History Channel is planning to release the trailer and answer a few burning issues about the old and frail Raganar's future. He paid a hefty price during his showdown with younger brother Rollo in the mid-season finale.
He flees the battleground and this has tarnished his reputation as a leader. Years later, he returned to Kattegat, only to be greeted by hatred and insolence from his people.
Rollo, who defeated Ragnar in the mid-season finale will also have a major story arch as he struggles between his new role in Paris and his inner calling to be a part of the Vikings.
The historical series received three Emmy nominations including outstanding special visual effects, outstanding makeup for a single-camera series (non-prosthetic) and outstanding sound editing for a series.
Alyssa Sutherland, who plays Ragnar's wife Aslug congratulated the Vikings team on Instagram and wrote: "If there was an Emmy category for most outstanding set mascot, you guys know Harry would be a shoe-in, right. Instead, we'll just have to congratulate Vikings for getting three nominations, including one for outstanding make-up by the legend that is Tom McInerney, for the episode 'Yol'."