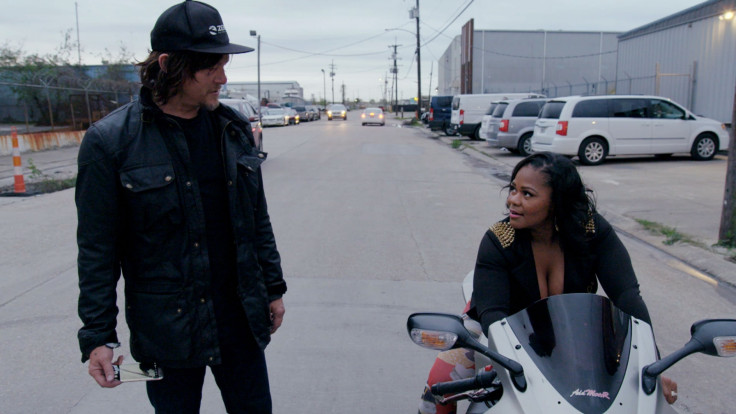 Louisiana recently got a special visitor in the form of Walking Dead's Norman Reedus. The actor who plays Daryl in the hit zombie drama The Walking Dead, cruised his way through the region for the fifth episode of his travel docu-series Ride With Norman Reedus which will air on AMC on 10 July.
In the episode titled Louisiana: Crescent City, Reedus explores the swamplands with guitarist/singer Brent Hinds. The duo also visit a local tattoo studio to get inked. "Give me a plane ticket to anywhere in the world, and this is where I'd want to go," the actor says on the show. "A couple of years ago, I was the grand marshal of the Endymion parade at Mardi Gras. Since then, I've jumped at every chance I can to come back to Louisiana -- the mash-up of people and cultures, the contrast between rich and poor, Christian and pagans, storm survivors and, let's be honest, partygoers."
Read the official episode description below:
Norman meets a member of an all-female biker club who can't believe she's meeting The Walking Dead's Daryl.
For this ride from Lafayette to NOLA, Norman and Brent Hinds fish for crawdads, meet an alligator whisperer and get tattoos.
Episode 5 is the penultimate one in the six-part season and Reedus is hopeful that the network renews it so that he can take his adventures to another level. "We talked about that and if we go into season two we'll definitely do that," he was quoted as saying by Comic Book when asked if he would like to bring a biker fan of Walking Dead on one of his sojourns. "There are a lot of different episodes that I would like to do with that and incorporate fans and Make-A-Wish kids and the whole thing. Hopefully, we go to season two and we can do all that because it's definitely something we want to do."
The 47-year-old bike enthusiast is also keen to take the show to an international level. "I'd love to go to Vietnam. I'd love to go to Italy," he said. "I'd love to go to lots of places in Europe and Eastern Europe and, you know, Africa! I'd love to do all of that stuff. It'd be so, so cool.
"It would be hard to communicate but you would watch us communicate through the love of motorcycles and riding and countryside and so forth. I think our conversations would be a lot fuller than you would expect."
Watch the latest episode of Ride With Norman Reedus on AMC on 10 July at 10/9c or watch it online on the official website.