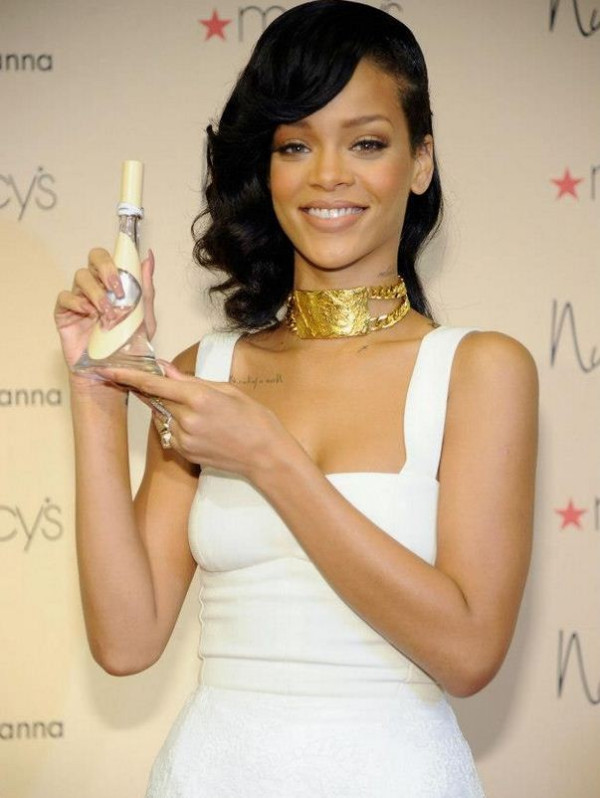 Barbadian singer Rihanna looked gorgeous as she took centre stage at a photo call at Macy's Westfield in Century City, California to launch her new fragrance - Nude by Rihanna.
The 24 year old singer opted for an all-white, partially see-through frock and combined the outfit with a gold neck piece. At the event, she also took time to greet fans who came out to purchase a bottle of her perfume. Nude is Rihanna's third fragrance, following in the successful footsteps of Reb'l Fleur and Rebelle.
"When creating my first scent, Reb'l Fleur, I wanted it to be a really strong scent - daring and bold. I have gotten more personal with Nude," Rihanna recently shared with Women's Wear Daily.
The Caribbean singer previously revealed photographs of the advertisement for the perfume to her 20+ million Twitter followers. In the shot, Rihanna is seen in the blonde hairstyle she once favoured, wearing an off-white lace lingerie outfit and with a piece of gauze fabric draped around her body.
The photographs came with the following post: "Here is my new ad for a brand new fragrance #NUDE !!! Make sure you smell sexy, especially naked, this fall."
On the personal front, Rihanna confirmed growing reports that she and ex-boyfriend Chris Brown are back together. In a photograph posted on her Twitter and Instagram pages, they are seen cuddled up together, with the caption:"I dont wanna leave!!! Killed it tonight baby!!!"
Sources claim that the Umbrella singer was very supportive of Brown while he was touring Europe.
"Rihanna made it all about him and took a back seat, so he could do his thing and let the fans interact with him. She knows he's on tour and the club was packed for him, so she was cool with it," The Sun quoted a source as saying.
Earlier, she posted an image of Brown on a bed, topless, surrounded by memorabilia from popular American television show The Simpsons. His cap and coat are seen tossed to one side of the messy bead, with a caption that reads: "Dis Nigga #BartObsessed".