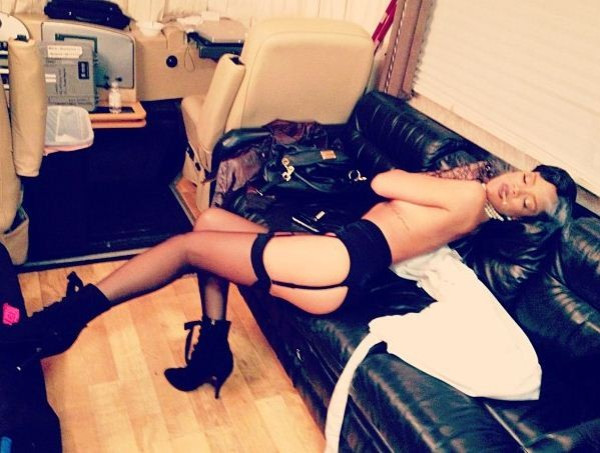 Pop star Rihanna has quite the history of posing topless photographs of herself on Twitter. And the recent snaps are no different.
Following an extravagantly seductive performance at the annual Victoria's Secret Fashion Show in New York City, the 24 year old Caribbean star posted a rather raunchy photograph of herself on the social networking Web site, for the benefit of her more than 20 million followers. The photograph - of herself sprawled across a leather sofa, blowing smoke rings, shows her wearing only stockings and suspenders.
The accompanying tweet: "And that's a wrizzap", indicating the post was made after the evening's festivities.
In fact, the photographs and status updates flowed all through the night and included snaps and conservations with top supermodels at the Victoria's Secret Fashion Show and Victoria's Secret Angels. As for the show itself, the singer caused quite a stir, appearing in a very seductive black gown with a slit running right up to her hips and exposing a very toned leg. She later changed into a pink lace outfit.
Other performers at the 2012 Victoria's Secret Fashion Show were Justin Bieber and Bruno Mars.
The highlight of the show was Brazilian model Alessandra Ambrosio, who walked the ramp in a Floral Fantasy Bra worth $2.5m (£1.5m). The extravagant piece of lingerie was designed by London Jewelers and embedded with 5,200 precious and semi-precious stones.
The show also paid tribute to the victims of Superstorm Sandy and Lily Aldridge waved the American flag down the ramp.
Earlier this month, the Barbadian beauty posted a topless photograph with her head covered by a green veil and her hand barely covering her chest. She was also in a raunchy mood when posing for the cover of her album - Unapologetic - in a series of poses displaying words, such as "faith" "fearless" "victory" and "fun" written across her body.