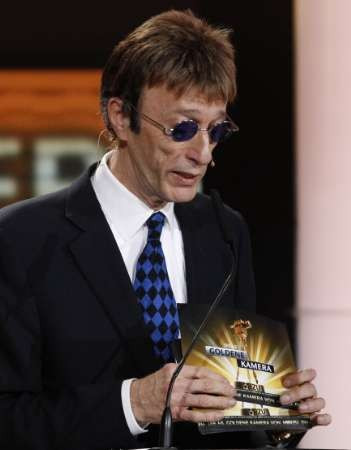 Pop star Robin Gibb has slipped into a coma and is fighting for life; according to doctors he has a secondary tumour. This follows a February interview, to BBC 2 Radio host Steve Wright, where the former "Bee Gees" singer was said to be recovering well from the colon cancer that led to his hospitalisation in 2011.
However, now, according to a report from The Sun, the singer has developed pneumonia, in addition the to the tumour. The real fear is that the singer, who is in a private hospital in Chelsea, has only days to live.
His family, including wife Dwina, brother Barry, daughter Melissa and sons Spencer and Robin-John, were at his bedside and praying for his survival.
"Our prayers are with Robin. He has kept so positive and always believed he could beat this," a family friend told The Sun, adding, "Sadly, it looks like he has developed pneumonia, which is very bad in his situation. If there is anyone you would put money on pulling through such a dire situation, it would be Robin because he is a fighter. But this is a battle he will struggle to win."
Earlier, during the London premiere of "The Titanic Requiem" - Robin's first classical work - , on 10 April, his son Robin-John read a message to the audience saying his father had contracted pneumonia and was too ill to attend the premiere.
"Of course these are all the periphery problems that occur when you have an illness like that. It's not always the cancer that will get you, and he has to always be treated and always keep good scrutiny on his health," he told Reuters Television.
"Sadly that's the way it is, and tonight he would love to be here and we're really at a loss because we really wanted him to see this and be able to see our baby come to fruition," he added. Robin Gibb was scheduled to perform a new song - "Don't Cry Alone" - during the premier at The Royal Albert Hall.
Meanwhile Robin Gibb's friends and fans have posted some Twitter messages wishing for his speedy recovery
@tonyblackburn: "Sad news that Robin Gibb is in a Coma today, let's hope he pulls through as he's such a lovely man."
@Moondance_81: "I am so sorry to hear about Robin Gibb from The Bee Gees fighting for his life. i wish that I could create miracles for the sick."
@JennyAJB : "So sad to hear about Robin Gibb- My thoughts and prayers are with him at this time, hope he pulls out of the coma."
@RetroRewind: "Please say a prayer for our friend and DHP Robin Gibb of The Bee Gees. He's in a coma and it's looking rough."
@lukejacobz: "Thoughts and love out to Robin Gibb and family!"
@Jana_Hein: "please get well soon Robin! Can't wait to purchase Titanic Requiem in the States! Love & prayers :)"