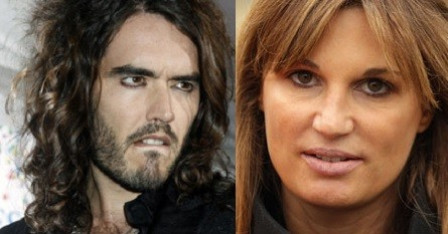 They have only been dating for three months, but Jemima Khan has reportedly found her sexual soulmate in British comedian Russell Brand.
According to The Sun, the couple have explosive chemistry between the sheets and Khan is having the best sex of her life.
The Vanity Fair European editor-at-large is said to have become addicted to Brand's adventurous spirit in the bedroom and feels liberated by their raunchy antics.
"She's never met anyone remotely like him and he makes her feel incredible. She's also never met anyone who is so adventurous in bed. She can't get enough of him. She just says he ticks every box" a source said.
Although Khan is basking in her passionate romance, her family and friends are yet to offer the pair their blessing.
"Her mother is trying not to let her panic show because she doesn't want to push her further into his arms. She's being as pleasant as possible, but any mum would be terrified at the thought of Russell Brand squiring their precious daughter," the source said.
"Her friends are worried, it's to do with what he says about people he knows and that he's slept with so many people."
Earlier in September, the lovebirds left partygoers red-faced when they went over the top with their PDA at PR boss Matthew Freud's London pad.
An insider said: "Russ and Jemima were curled up together, and what started out as flirting quickly got embarrassingly passionate.
"Pretty soon, they were wrapped up in each other and wriggling around like teenagers. Some people thought they needed to get a room. In the end, Matthew went over and had a quiet word."
Brand was previously married to Katy Perry and Jemima's ex-husband is Pakistani cricketer-turned-politician Imran Khan. She also dated actor Hugh Grant.