Russia has unveiled a new high-tech passenger plane that has been described by its state media as superior to similar models made by Western counterparts such as Airbus and Boeing. The twin-engine and medium-range MC-21 aircraft, designed by the state-owned Irkut Corporation, was shown off at a lavish ceremony in Siberia on 8 June.
It has been positioned as a direct competitor to the Boeing 737 and Airbus 320, with Russian Prime Minister Dmitry Medvedev hailing it as a "huge victory" for the country's aviation industry.
The MC-21 is still undergoing testing and is expected to undergo its first flight later this year.
It will be built in two variants: the MC-21-300 which will have a maximum of 211 seats, and the more compact MC-21-200 which will have 130-165 seats.
The Russian government has invested $1.1bn (£760m; €970m) in the project, according to state media.
Cost-effective model
"This is a huge victory for our aviation industry and Irkut Corporation, our scientists, designers, engineers and workers," state media quoted Medvedev as saying.
"I'm sure this is going to be a good machine, reliable and efficient."
The MC-21 will be powered with the latest Russian PD-14 engines and will have a servicing range of around 6,000km (3,700 miles).
It is reportedly made of composite materials and lightweight alloys of aluminium and titanium, making it more fuel efficient than its competitors.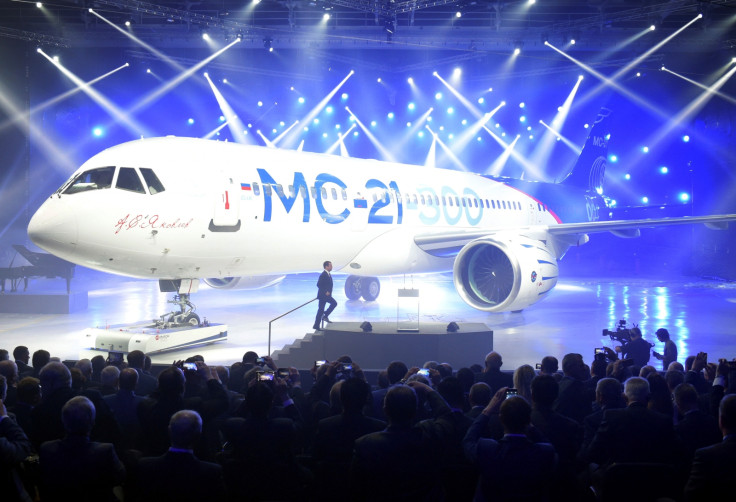 Some two-thirds of the plane's components will be manufactured domestically, with the rest made by Irkut's foreign partners.
"MC-21 will replace the Tu-154 fleet, Tu-134, Yak-42, which are actively used by the Defence Ministry, the Federal Security Service [and] the Emergencies Ministry," United Aircraft Corporation, the umbrella group which owns Irkut, told RIA Novosti.
"PD-14 will be certified in 2017, we will devote two years to a flight test program. So far the PD-14 program is going according to schedule. We hope for a more economical and cost-effective engine."
Russia's flagship carrier Aeroflot has placed an order for 50 MC-21 aircrafts and will be the first client to receive the planes in late-2018.
Irkut plans to mass produce and sell the plane to foreign carriers after 2020.