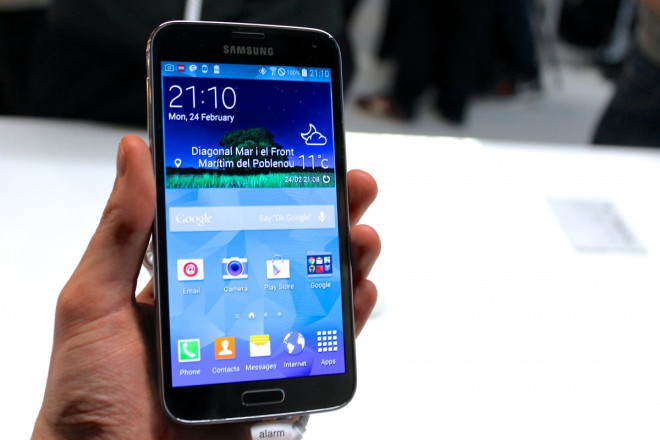 The Samsung Galaxy S5 was launched in a blaze of glory at Mobile World Congress last month, but since then little has been heard about the phone.
Today however UK customers can pre-order the Samsung's 2014 flagship smartphone for delivery on 11 April, the day the phone is set to be released globally. Carphone Warehous has said interest in the phone has been "off the charts" since launch, but they would say that wouldn't they.
Samsung's flagship smartphone features a 5.1in screen, powerful Qualcomm Snapdragon 801 chip, a fingerprint scanner and heart-rate monitor along with a design very similar to last year's Galaxy S4.
The phone is set to be released globally on 11 April, but this week some networks in South Korea put the phone on sale early to circumvent a ban on sales which is due to come into effect next week.
The phone is availble in black, white, blue and gold - but the latter two colour options won't be available until 22 April and 20 May respectively.
HTC this week announced its all new HTC One (M8) putting the phone on sale immediately in select stores in the UK, meaning customers looking to upgrade could be swayed by HTC's flagship smartphone, rather than waiting another two weeks for the Galaxy S5.
However, for those willing to wait, all the major networks have announced their pricing plans and we've rounded up the best deals to help you decide which to go for:
---
SIM-Free
---
Buying a phone outright is always a better option in the long run than tying yourself into a long contract. The problem with premium phones like this, is the high initial cost.
The Galaxy S5 is no different. Samsung is selling the phone direct for £649 with expected shipping to begin on 10 April. However you can buy the phone outright from Carphone Warehouse for 'just' £580.
---
Contract
---
It's no surprise that all major UK networks are offering the Galaxy S5 on contract considering the probably high interest in Samsung's latest offering. Here are the best deals available from each:
Note: All plans mentioned offer unlimited calls and texts (unless stated) and are based on 24-month contracts.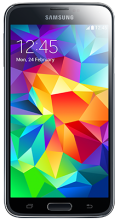 The UK's biggest network, and the one with the best 4G coverage, is offering the Galaxy S5 for an upfront cost of £10 with contracts costing £43-a-month. While this is expensive, you will get a huge 10GB of data (plus access to double speed 4G where available).
The lowest monthly cost for the Galaxy S5 from EE is £33-a-month (4GB data) but you will have to fork out £260 upfront.
To tempt customers further, EE is offering a return flight to select European destinations if you pre-order online before 10 April.
Vodafone's own website is still not showing its plans, but some are available through Carphone Warehouse.
Unlike EE, Vodafone is offering plans with no upfront cost, with a £42-a-month plan costing you nothing initially, but you only get 4GB of data.
The lowest monthly plan comes in at £29-a-month, but you will need to pay £159 upfront and you only get a measly 250MB of data and no access to Vodafone's 4G network.
Probably the most sensible plan is the £38-a-month plan which gets you 4G access, 3GB of data and a £79 upfront cost.
O2's Recommended offer through Carphone Warehouse has the relatively low monthly cost of £28-a-month which gives you 1GB of data, access to O2's 4G network with a £150 upfront cost.
If you want more data, the same upfront cost with 8GB of data will set you back £38-a-month.
The cheapest contract with no upfront cost is the £43-a-month plan which will give you 1GB of data.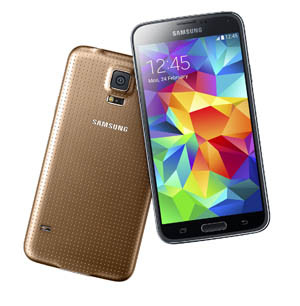 Three offers access to its 4G network to customers at no extra cost, which will make its £41-a-month unlimited data plan very attractive for some, especially as the upfront cost of £69 is not that high.
Three doesn't have as many plans available as Vodafone, O2 or EE, and it's lowest monthly tariff is £38-a-month which will get you the same £69 upfront cost, but with just 2GB of data and 600 minutes.
T-Mobile is offering a limited number of Galaxy S5 contracts, including one with the lowest monthly cost, undercutting O2's £28-a-month contract by a penny.
For the £27.99-a-month deal you do get unlimited data (albeit only on 3G network), 500 minutes but will have to fork out £229 upfront.
Unsurprisingly (as they're owned by the same company) Orange is offering the same £27.99-a-month deal for its customers. However it has a higher upfront cost (£199) but for that you get 1000 minutes but 500MB of data (3G-only)
A more sensible offer is the £33-a-month deal which gives you 1GB of data (3G-only) with unlimited calls and text for £149 upfront.
Virgin's Galaxy S5 pricing depends on whether or not you are a Virgin Media customer already.
If you are, you can get the Galaxy S5 for £99 up front on a £29-a-month contract. This will only give you 250MB of data, 250 texts and 100 minutes however. You do also get inclusive insurance, unlimited calls and texts other Virgin customers.
It's not a great deal however, and a more realistic one in terms of data and minutes is the £37-a-month plan with the same upfront price but 2GB of data with unlimited calls and text to all numbers.
For non Virgin Media numbers, the upfront costs remain the same but all contracts cost £10 more every month.