The Samsung Galaxy S6 and S6 Edge have been spotted in a set of hands-on images, just days before they are scheduled to be officially unveiled.
It's our first chance to see the new phones in a setting other than Samsung's publicity teaser shots, and the photographs reveal the company has been working on two versions of the Galaxy S6 - one with a regular, flat screen and one with a curved edge, just like the Galaxy Note Edge from last year.
However, unlike the Note Edge, the Galaxy S6 Edge doesn't appear to use its curve to house an application launcher - or perhaps the software has been tweaked to give users more freedom with how the display works.
The images, published on the XDA Developers forum, also show the back and side of Samsung's upcoming Android flagship, but while the sides appear to be metal, the back is glossy white plastic.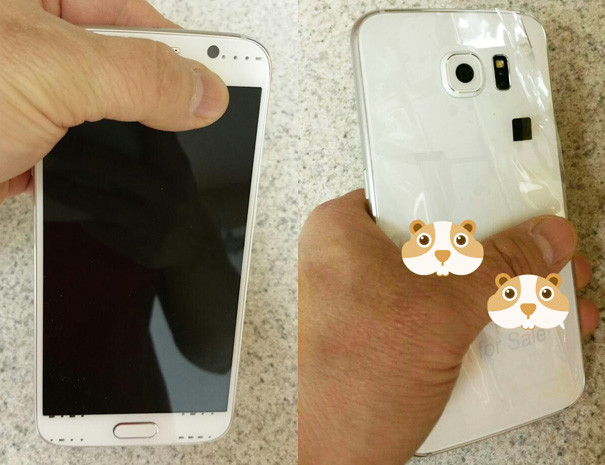 Slimmer than the Galaxy S5, the new phone looks to have it volume buttons on the left side, with a power button and SIM card slot on the right; the buttons have a shiny chamfered edge similar to those used by Apple on the iPhone 6. There's a headphone jack on the lower-left corner, and the microUSB port is on the bottom edge.
It is worth remembering that these are probably prototypes, and the phones announced by Samsung on 1 March may include some cosmetic changes.
Although giving us our clearest look yet at the handset, it still is not confirmed if the Galaxy S6 Edge has curves on both sides of its screen. The latest images show a curve on the right - the same as the Galaxy Note Edge - but recent rumours claim the left side is also curved.
It is also unknown if Samsung will promote the Edge model as the flagship, or if - as with the Note 4 and Note Edge - the curved version will be produced in far lower quantities and sold in fewer markets.
Samsung is expected to reveal the Galaxy S6 and S6 Edge at its Unpacked media event in Barcelona on 1 March, just hours after HTC reveals the One (M9) and on the eve of the Mobile World Congress technology trade show.
IBTimes UK will be at Unpacked and MWC to bring you the latest news, interviews and hands-on reviews from the show.