Samsung has said earnings this quarter will be "not that good" as smartphone shipments are expected to drop by almost 10 million units compared to the last quarter - despite the launch of the company's flagship Galaxy S5 smartphone.
The comment - first reported by the South Korean media and since confirmed by Samsung - is attributed to the company's chief financial officer Lee Sang Hoon who was asked about the company's second quarter earnings, which are not due to be reported for another month.
However some reports suggest the electronics giant could report preliminary figures as soon as next week.
According to estimates from IBK Securities Samsung's smartphone shipments in the second three months of 2014 fell to 78 million units, down significantly from the 87.5 million units it shipped in first quarter of 2014.
"Strengthening competitiveness of local players in emerging markets are hurting sales of Samsung's lower-end smartphones," Jin Sung Hae, an analyst at KTB Investment & Securities, said in a report today according to Bloomberg, after cutting profit estimate by 10% to 7.99 trillion won (£4.6 billion). "The main reason behind the lowered earnings estimate largely stemmed from weak smartphone sales."
Galaxy S5 sales
While shipments have dropped compared to last quarter, they are likely to be flat when compared to this time last year, though this will be seen as a problem considering that the smartphone market is continuing to grow.
Samsung is the world's biggest smartphone manufacturer but has seen growth in this market slow in the last year, with sales of its flagship Galaxy S4 smartphone not meeting expectation.
The company launched its Galaxy S5 smartphone at the end of February at Mobile World Congress and the phone went on sale around the world in April. While there were reports that the company sold 10 million units in under four weeks, these have not been confirmed by the company.
According to a recent graph published by @SomosPostPC, Samsung has cut the price of its Galaxy S5 smartphone much faster than it has done with any of the previous two Galaxy S or Note models, offering discounts of up to 30% less than three months after launch.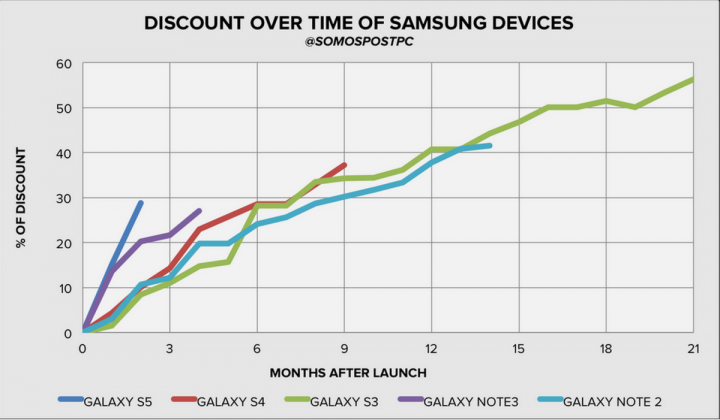 Samsung has also been trying to boost sales by offering free accessories worth hundreds of pounds - including the company's Gear Fit tracker - as an incentive to buy the Galaxy S5, something it has never done before this close to launch.
Samsung is being challenged at the premium end of the market by the likes of Apple, HTC, Sony and LG while at the budget end of the smartphone market it is facing increased challenges from low cost Chinese manufacturers like Xiaomi, who are expanding fast and offering premium hardware at budget prices.