Sandra Bullock reacts to being named People's most beautiful woman of 2015: 'That's ridiculous'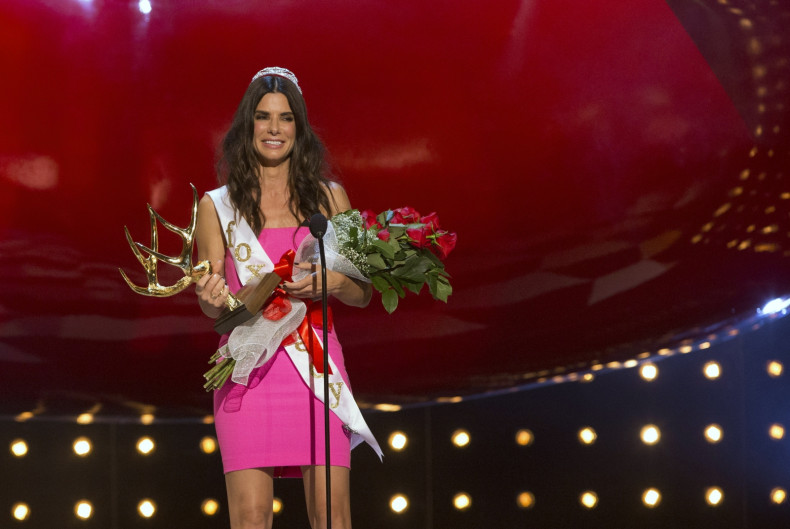 She was almost crowned Miss United States in Miss Congeniality and now actress Sandra Bullock has been named the world's most beautiful woman of 2015 by People magazine.
Reacting to the flattering news, the Gravity star admits she was shocked to have beaten this year's competition and describes the accolade as "ridiculous".
In her interview with the magazine, the 50-year-old said: "No, really. I just said: 'That's ridiculous.' I've told no one."
Bullock shuns the materialistic idea of beauty and says that she tries to be a good and relatively normal person while living in the midst of image-obsessed Hollywood.
She explains: "Real beauty is quiet. Especially in this town, it's just so hard not to say: 'Oh, I need to look like that.' No, be a good person, be a good mum, do a good job with the lunch, let someone cut in front of you who looks like they're in a bigger hurry. The people I find most beautiful are the ones who aren't trying."
When she is not on the big screen, Bullock plays mother to her five-year-old son Louis whom she often has "deep" conversations with.
The actress said: "[I listened] to him tell me why he was going to marry his girlfriend. But then we were having Sunday dinner, and he said he changed his mind.
"I just told him: 'Always love those who want to love you back and are nice to you.' Then we moved back to Lego and: 'Why are you making me eat broccoli?'"
Louis may have the Minions actress wrapped around his little finger, but Bullock insists: "I will never let him know it. We have rules. I let everyone else be the aunties and uncles who spoil him and I'm the one that lays down the law."
Despite her superstar status and prestigious awards, Bullock says little Louis has no idea what she does for a living.
She admits: "He thought I was an astronaut for a while. I want it to be so inconsequential and such a non-issue. I want him to be embarrassed by me like all other parents."
Other celebrities featured on the most beautiful list includes Problem singer Ariana Grande, Channing Tatum's wife Jenna Dewan-Tatum, Orange Is The New Black actress Laverne Cox, Empire star Taraji P. Henson and model Gigi Hadid.
Vanessa Hudgens, Padma Lakshmi, Shay Mitchell and Meghan Trainor have also been included with the full list due to be revealed on 24 April.
2014's list was topped by 12 Years A Slave actress Lupita Nyong'o.