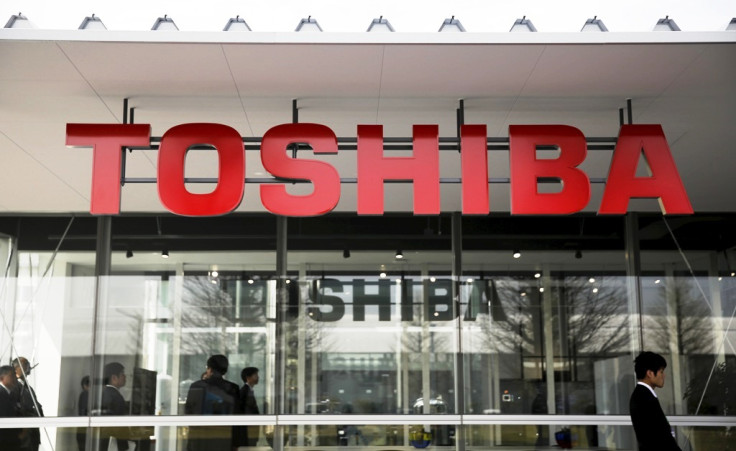 Toshiba has recently warned that it could post its biggest ever annual loss because of its restructuring process. It could incur a loss of ¥550bn (£3bn, €4.2bn, $4.5bn) for the fiscal year through March 2016, because of the costs involved in 10,600 job redundancies, besides the costs involved in streamlining its loss making divisions, it said.
Of this loss that has been forecast, the company attributed ¥230bn in restructuring costs and deterioration in its semiconductor and infrastructure businesses, where sales are projected to plunge by 6.8%. Ahead of this announcement, shares of the Japanese semiconductor-to-nuclear conglomerate declined 9.8% touching its lowest levels in three years.
The restructuring includes, shedding or relocating 5% of its global workforce, which translates to about 10,600 employees, by the end of the financial year. Of these, 6,800 cuts will be across its loss making divisions including personal computer and television consumer electronics.
The Tokyo-headquartered company also plans to sell its TV plant in Indonesia and stop sales of TVs in overseas markets. While it is already in talks with Fujitsu to combine their laptop businesses, which could eventually be integrated with Sony's spun-off PC division, it recently agreed to sell its image sensor business to Sony. This move will see Toshiba transfer its semiconductor fabrication plant, equipment and about 1,100 employees in Oita, Japan.
Apart from these steps, in order to turn the company around, an initial public offering or the sale of a stake in its semiconductor business has not been ruled out by Masashi Muromachi, Toshiba's chief executive.
The image of the 140-year-old Japanese group was tarnished by a $1.3bn accounting scandal where net profits were inflated over a seven-year period. This scandal exposed weaknesses across most of Toshiba's businesses.
Yasuo Imanaka, analyst at Rakuten Securities said, "Toshiba had tried to make everything look good, but once the truth came out, it was a company in tatters. Does it really have a business that is significantly profitable?"
Analysts have opined that this image could improve if the company executes the restructuring measures in a speedy manner. Hisashi Moriyama, analyst at JPMorgan said that restructuring was just the first phase and like any other company, the second phase would involve "growing its revenue and profits and restoring its balance sheet."
The move by Toshiba is similar to that taken by its rivals Hitachi, Panasonic and Sony, companies that restructured by hiving off their consumer electronics businesses in an effort to focus on more lucrative businesses such as infrastructure, auto parts and image sensors.
Post the restructuring, Toshiba's businesses across flash memory, energy and infrastructure would remain, while all other divisions would be disowned.