At least 58 people have been killed and many injured in a suspected chemical attack on a rebel-held town in Syria, according to a human rights group.
The Syrian Observatory for Human Rights said a choking substance had been dropped by Syrian government or Russian jets on the town of Khan Sheikhoun, in the central province of Idlib, early on Tuesday (4 April).
The attack caused many people to choke or faint, and some had foam coming out of their mouths, the Observatory said, citing medical sources who said the symptoms were signs of a gas attack.
The opposition Local Co-ordination Committees network posted photos of people, including children, it said had died of asphyxiation.
The volunteer White Helmets Idlib rescue group said they had treated more than 20 cases of civilians suffocating, which they alleged were caused by chlorine gas dropped in barrels.
The Syrian Observatory said it was unable to verify the identity of the substance used in the attack, while the pro-opposition Edlib Media Centre said it was believed to be nerve agent sarin.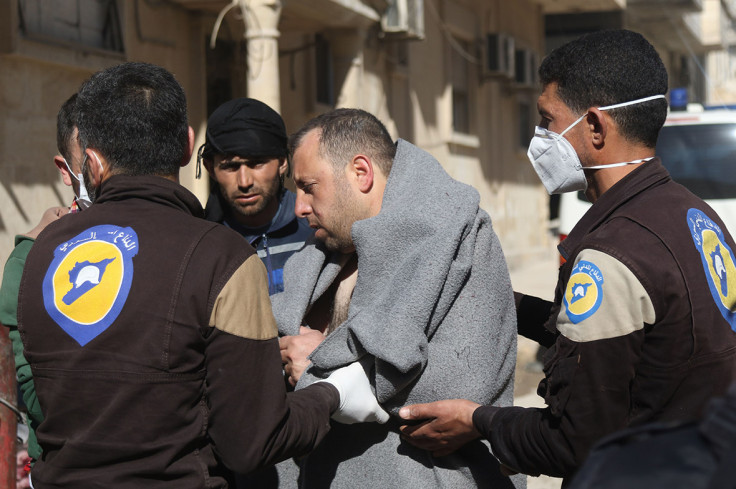 The main Syrian opposition alliance, the National Coalition, accused the Syrian government of being responsible for the attack, and called on the UN Security Council to authorise an immediate investigation. France, which backs the opposition, said that a "particularly serious chemical attack" had taken place, and called for an emergency Security Council meeting.
UK Foreign Secretary Boris Johnson condemned the attack as a war crime.
In an apparent reference to the attack, two state-run Syrian media outlets reported that there was an explosion at a "rebel poison gas factory" in the countryside of Idlib province. Damascus has repeatedly denied using chemical weapons.
Russia's defence ministry denied that it had carried out any strikes in the vicinity of Khan Sheikhoun.
An investigation by the United Nations and the Organisation for the Prohibition of Chemical Weapons in October, 2016, said that government forces had used chlorine as a weapon at least three times between 2014 and 2015.
It also found that Isis had used sulphur mustard in attacks.
Idlib is controlled by an alliance of rebel groups, including former al-Qaeda affiliate Fateh al-Sham Front.
The province has been targetted by Syrian government forces and their Russian allies, as well as the US-led coalition, which has launched airstrikes against strongholds in the province held by jihadist group Isis.