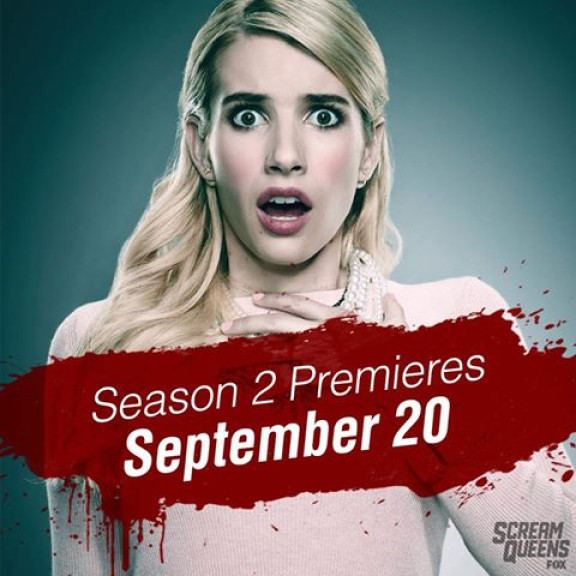 Scream Queens season 2 returns this Tuesday (20 September) on Fox and this time the show is expected to become a lot creepier than its previous season. The Ryan Murphy series has abandoned the sorority house to enter into a mysterious C.U.R.E. Institute Hospital founded by Cathy Munsch (Jamie Lee Curtis).
Click here to watch episode 1 live online on the official website of the network. The premiere episode will air on Tuesday (20 September) on Fox at 9pm EST.
The second season will introduce two doctors — Dr Cassidy Cascade (Taylor Lautner) and Dr Brock Holt (John Stamos) – who will do everything in the creepy health institute other than curing the patients.
The doctors are set to become sinister with each episode, Stamos hints at plenty of bloodshed in the upcoming season. "It's just a bunch of nutters running a hospital and people are getting killed. It's really outrageous. If you were flipping the channels you would have to stop and see what's going on in this show," he told the Harpers Bazaar.
He also warned fans about his character's 'dark' shade. Explaining Brock's killer instinct he said: "I think Brock means well, although I'm right in the thick of being a prime suspect as the killer and they don't tell us who the killer is. And I'm doing things that would lead you to believe that one of the murders could've very well been done by me. I'm certainly acting like it could be me. He's very dark and extremely arrogant."
Chanel Oberlin (Emma Roberts) and her two minions will finally be rescued from the mental asylum by the former dean of Wallace University. A sneak peek released by the network reveals that dean Munsch will enroll the girls as the medical students of her new establishment. Her motive behind this is still a mystery.
Here is the official synopsis of episode 1 Scream Again:
Years after the murderous events at Kappa House, Dean Munsch purchases an abandoned hospital under the guise of fixing the healthcare system in America. After recruiting surgeons, Dr. Brock Holt and Dr. Cassidy Cascade, as well as medical student Zayday Williams, the Dean shocks everyone when she enlists the services of the disgraced Chanels to join the ranks at the teaching hospital. Meanwhile, secrets from the hospital's past begin to reveal themselves and a new killer surfaces
Zayday Williams (Keke Palmer) will enter C.U.R.E as a trainee doctor. Season 1's serial killer Hester (Lea Michele) will also end up at Munsch's institute, though her character details are still a secret.