Steve Bannon earned himself several jibes after stepping in as White House chief strategist for the Trump administration. Now, actor Sean Penn has also joined in on the criticism, describing the former executive chair of Breitbart News as a "bitter Hollywood wannabe".
The actor worked alongside Bannon on the 1991 movie The Indian Runner, for which the latter was an executive producer. Following the Trump adviser's ousting from the National Security Council, Death and Taxes reached out to the Mystic River star for his opinion on the man.
"Bannon was then, as he is now, simply another bitter Hollywood wannabe who went rogue by way of toxic narcissistic iconoclasm," Penn told the website.
Following The Indian Runner, Bannon continued his stint as producer, investing in NBC's Seinfeld in 1993 and later funded a series of documentaries on political figures like Ronald Reagan and Sarah Palin.
Despite being recognised for having some success in his Hollywood ventures, Penn had no words of praise for the 63-year-old. "Deep in his heart, he's just a conniving hateful bloated punk who despises mankind," he said. "And then there are also the bad things about him..."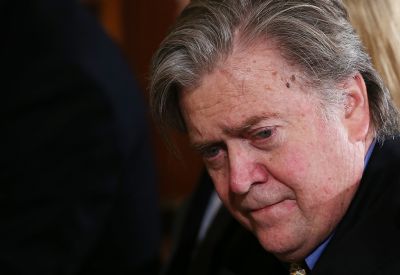 Bannon's position at the White House seems to be on weak footing these days following clashes with Jared Kushner, Donald Trump's son-in-law and senior adviser to the president. "The tension, the exhaustion, the raw nerves have gotten much harder to disguise," a White House source told Axios, hinting that the chief strategist could be replaced sometime soon.