Selena Gomez Stunning in Versace at Hotel Transylvania Premiere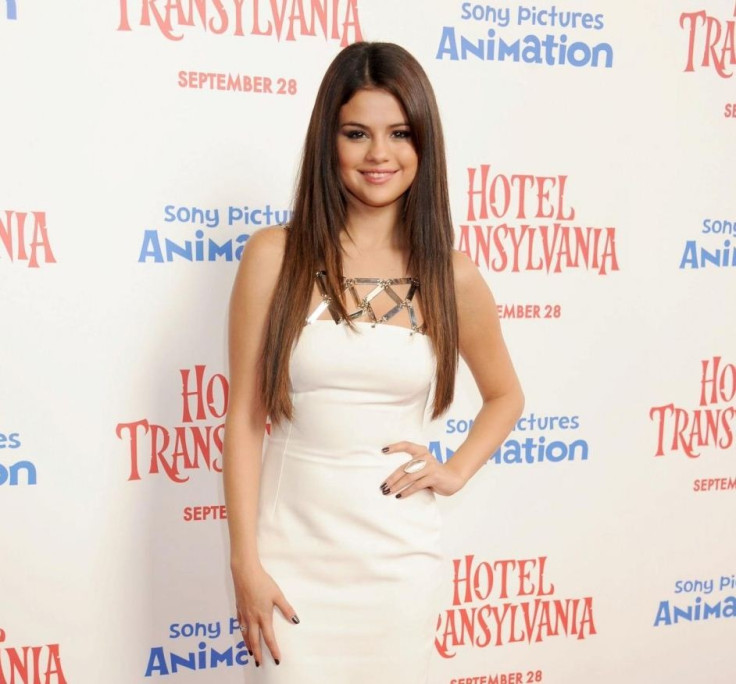 Selena Gomez looked ravishing in a white dress as she arrived for the premiere of her new animated film Hotel Transylvania at the Pacific Theatre at The Grove in Los Angeles.
The 20-year-old wore a Versace dress with silver straps across the neck and Christian Louboutin shoes. The rest of her ensemble was kept simple; smoky make-up for the eyes and her hair left long, straight and loose. Gomez voices the character of Mavis (the daughter of Count Dracula, voiced by Adam Sandler). The Count was also at the event and wore loose khaki shorts with a yacht club tee, a baseball cap and unlaced trainers.
The film, directed by Genndy Tartakovsky, tells the story of Dracula, the operator of a secluded resort, and his attempts to keep his 118-year-old daughter (Gomez) from leaving home by throwing a birthday party. However, things take a twist when a young traveller named Jonathan (Andy Samberg) arrives at the hotel. The film also stars Cee Lo Green, who voices the character of Murray the mummy.
"I'm in that place, a little bit. I'm 19 [at the time of filming], it's fun for me to grow up and I want to see places, too. I get to travel, and I'm very lucky to get to go to the places that I get to go to, but I have never been to these places alone or with my friends," Gomez said. "I've never had that. I think I'm going through what she is going through, doing things on my own a little more. I am getting a little bit of that freedom. And I'm kind of quirky, like Mavis."
Hotel Transylvania opens in the United States on 28 September, and in the UK on 12 October.
Gomez Confirmed for Global Citizen Festival
Meanwhile, Gomez is set to appear at the Global Citizen Festival - an event to highlight global poverty - which will take place in Central Park, New York City. She will be joined by Katie Couric, Jeffrey Sachs, Jack Dorsey, Minka Kelly, Sophia Bush, Olivia Wilde, Katharine McPhee and Erin Heatherton.
© Copyright IBTimes 2023. All rights reserved.