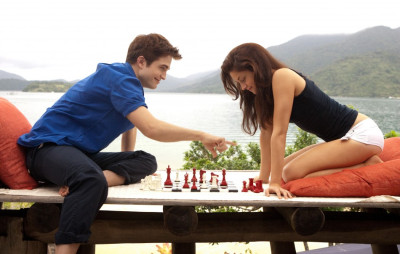 Hollywood actress Kristen Stewart has revealed in a recent interview that the much-anticipated sex scene in "Breaking Dawn", the first ever in the "Twilight" series of films was originally rated R. Stewart admitted that the first time they filmed it, things got so heated that the scene had to be completely re-cut.
"It was so weird, it didn't even feel like we were doing a 'Twilight' film. I was like, 'Bella! What are you doing? Wow! What is happening here?!'" said Stewart to the UK edition of Glamour, in its December issue, about the movie's sex scenes, which follows her wedding with Pattinson.
"It was very surreal. We [originally] got rated R. They re-cut it," the 21-year-old star said.
Stewart said Pattinson and she were conscious about their bodies because they both didn't take working out seriously, while co-star Taylor Lautner was a work-out fanatic.
"Usually we all make fun of Taylor for working out so often and then suddenly Rob and I were running around the block while Taylor laughed at us," Stewart said.
"People can say whatever they want ... [The interest] is totally understandable, but when it's personal to you, it's like your life becomes a product, and I'm repelled by that," said Stewart, when asked about her relationships with Pattinson.
"I don't like to give away gems that people are gonna be like. 'Oh m God!' So I'll always just shrug it off - in fact, I always find it kind of funny, and not just with Rob," she said.
The first part of "Breaking Dawn" will be released in theaters on November 18.
Start the slideshow to take a sneak peek into some scenes in "Breaking Dawn".