A female sex trafficker was attacked in prison after fellow inmates discovered she provided vulnerable girls to the Newcastle grooming gang, her father revealed.
Carolann Gallon, the only woman jailed in the Operation Shelter grooming gang investigation, was originally held at HMP Low Newton's women's prison in Durham after being sentenced to six years. Gallon was found to have provided vulnerable girls as young as 13 to a network of sex predators in Newcastle's West End, The Sun reported.
The 23-year-old's family said she was targeted by other inmates in Low Newton and subsequently transferred nearly 150 miles to HMP Styal in Cheshire. However, when inmates in Style found out about her crimes, she was allegedly assaulted on 29 October.
"People have found out what she's in for and she's getting grief," her father, Jimmy Gallon, said. "She got moved from one place to another because she was getting picked on, then she rang me saying she had been assaulted by someone in there."
"She cries every time I speak to her," he continued. "It's awful for me because I feel so helpless. She's my daughter and I just feel like there's nothing I can do for her."
Police are probing the attack, which left Carolann with minor injuries, The Sun reported.
Gallon was the only woman of 18 people convicted in the investigation, with the rest being men of Asian and Eastern European descent. Vulnerable girls were lured to parties and then plied with drugs and alcohol before being used for sex, Newcastle crown court heard.
She was arrested and pleaded guilty to three counts of trafficking for sexual exploitation.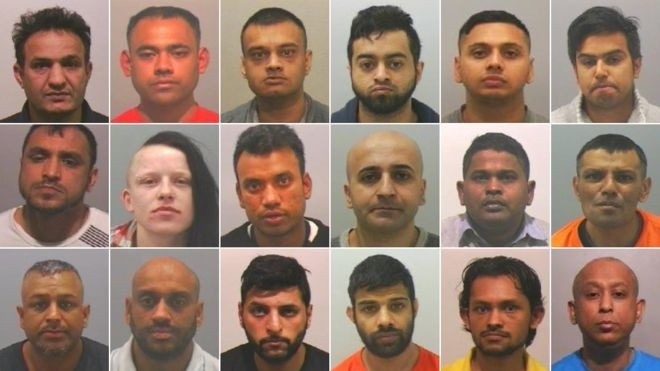 Jimmy Gallon told reporters that his daughter is just as much a victim as the other girls and was being manipulated by the men. "I have always said she needs help not punishment," he said. "They could have put her on a tag—I would have taken full responsibility for her. She could have come to live with me. Prison is not going to help."
He said the men in the group "were just using her. I think they saw her as an easy target— I don't think she knew what she was doing".
The woman's father added that he knew his daughter had "gone off the rails," but did not know the extent of her crimes. He said he does not think it is too late for her to turn her life around.
"I will make sure she stays on the straight and narrow when she gets out," he said.